So, there is another WhatsApp update you don't dig or another WhatsApp terms of service you're not willing to accept – which makes you think of abandoning WhatsApp in favor of a more convenient solution. But this is years of memories and photos! And you start thinking about how to save WhatsApp images (commonly known as Watsop photos or Wattsup photos) to your PC and leave this ship for good.
This tutorial features 3 ways of backing up your WhatsApp chat images: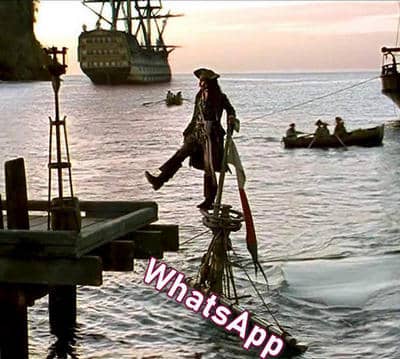 How to save WhatsApp images
All at once
Let's say you don't need the actual conversations and attachments – you want to export WhatsApp pictures and WhatsApp videos only to PC. Selecting the photos one by one and sending them somewhere will take a load of time. However, you can save hours of work by opting to use a product to help called CopyTrans Photo.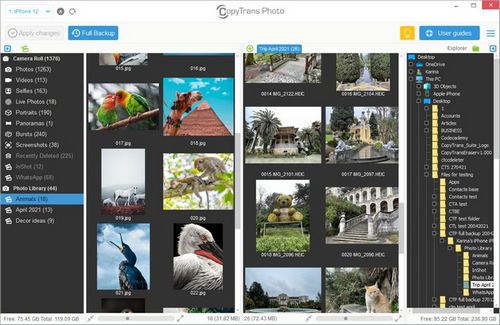 With CopyTrans Photo, you can:
⚡ View all iPhone photos from PC;
⚡ Transfer any iPhone photos to PC via drag and drop;
⚡ Edit, rename or delete albums created with iTunes;
⚡ Effectively delete photos from iPhone photo library;
⚡ Export all WhatsApp chat images at once.
So, here's how to backup WhatsApp photos to PC:
Download, install and run CopyTrans Photo:

Download CopyTrans Photo

If you need help installing CopyTrans Photo, please refer to the installation guide.

Connect your iPhone to PC. The program will show your iPhone photos on the left and PC photos on the right.

➕ The leftmost and rightmost panes are for navigation; use them to switch between different folders and albums.

Choose WhatsApp in the folder tree on the left, then select the images you want to transfer.

➕ To select all the images in a folder, press Ctrl+A on the keyboard.
➕ To select several single photos, click on them one by one while holding down Ctrl.

If your WhatsApp images are not showing in gallery, you might have the necessary Setting disabled. You need to open WhatsApp, go to Settings -> Chats -> toggle on the feature "Save to Camera Roll". Restart your iPhone.

All the media will appear in your Camera Roll. If not, just use CopyTrans Contacts to save photos from WhatsApp anyway.

From the folder tree on the right, select the destination folder. Then just drag and drop the images to the right half of the interface.

In the top left corner, click on Apply changes… to apply the changes.

All of your WhatsApp images are waiting inside the chosen PC folder.
How to save WhatsApp pictures
From one particular chat
Option number two is to export WhatsApp photos, documents and more along with the corresponding WhatsApp chat to your PC. Some sorces offer to export a WhatsApp chat to then send it as an email attachment. But they don't take into consideration the fact that the size of an exported chat is bigger than your average meme you attach to an email. An email service might not let you to enclose it to a letter. To export WhatsApp chats together with WhatsApp pics, give CopyTrans Contacts a try.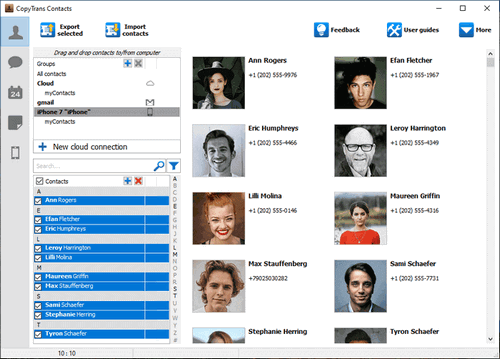 Using CopyTrans Contacts, you can:
🖖 See all your SMS, WhatsApp, Viber and Line chats on PC;
🖖 Export messages to computer in PDF, DOC, etc.;
🖖 Save photos and attachments in a separate folder;
🖖 Manage your contacts, notes and calendars.
Here is how to backup WhatsApp photo along with the chat which contains them:
Download CopyTrans Contacts from the following page: Download CopyTrans Contacts

Install the program. If you need help installing CopyTrans Contacts, please refer to the installation guide.

Run CopyTrans Contacts and connect your iPhone. The program will start loading all the iPhone data. Please wait for the cogwheel to stop turning! It might take a while if you have a lot of data on your device, but this is a crucial step.


When the data is loaded, go to the Messages tab, click on WhatsApp and select the chat from which you want to save the pictures.


If you want to back up selected WhatsApp photos and videos, tick the checkbox next to each media file you want to back up.

➕ If you want to save photos and videos for a specific period, click on a cogwheel symbol and choose the exact time frame:

Click on Export Selected in the top-left corner and choose one of the formats: PDF, Word, Web or Plain Text. Choose the destination folder for saving WhatsApp images and chat.


💡 When you back up messages as Web pages, the result is an interactive Web document. We recommend the Word format for editing your messages. The PDF format is the best for archiving or printing your SMS. Also, opt for PDF to enjoy conversations with emojis.

As soon as the process is finished, navigate to the selected destination and look for the folder with the name of the contact. It will contain the conversation in the chosen format and all the attachments like photos, videos, gifs and voice messages that you have shared in this WhatsApp chat.

How to download photos from WhatsApp backup
To your PC
If you don't have your device any more or the messages have been deleted, but you still want your photos, you can use CopyTrans Backup Extractor to search for iPhone backups on your PC and extract WhatsApp pictures.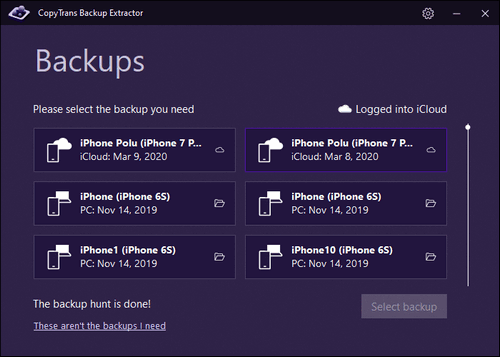 CopyTrans Backup Extractor can:
✨ Find iPhone backups made with iTunes OR iCloud;
✨ Show you how many WhatsApp messages you have in each backup;
✨ Extract data from WhatsApp media backup, saving all attachments to a separate folder;
✨ Extract your photos, contacts, messages, voice memos and more.
So, here is how to save pictures from WhatsApp backup to PC:
To get started with CopyTrans Backup Extractor, download it to your PC:

Download CopyTrans Backup Extractor

For installation instructions, follow the installation guide.

Run the program and log in to iCloud if you want to find more backups. Once ready, click Find Backups.

We care about your online safety: your credentials go directly to Apple through a secure SSL connection.

Wait for the backup hunt to be complete. You will see a list of all available backups: choose the one that contains your WhatsApp messages.

If you are restoring from iTunes backup, you may be asked for a backup password. What password?

☁️ iCloud backups will be marked with a cloud icon and they are never password-protected.

Select WhatsApp messages from the list of components, then click on Next and select the folder. Your messages will be extracted there in PDF.

Wait till all your messages are unloaded to your PC.


Done! Your messages are sitting in the folder of your choice on your PC, and the attachments are in a folder right next to them. Choose "Go to folder" to open the directory with WhatsApp chat images.

You will see a folder with .PDF documents in it. Double-click on the file to view the contents of the chat.

➕ Attachments from the conversation will be saved in a folder under the same name.
How to download pictures from WhatsApp backup
Back to your iPhone
You might want to restore WhatsApp images back to your iPhone together with the chats themselves. Do it using the Custom restore feature of CopyTrans Shelbee. This app will bring back WhatsApp messages that have gone missing and simultaneously recover the chat images. CopyTrans Shelbee will do it from an iTunes backup or a backup made with third-party software.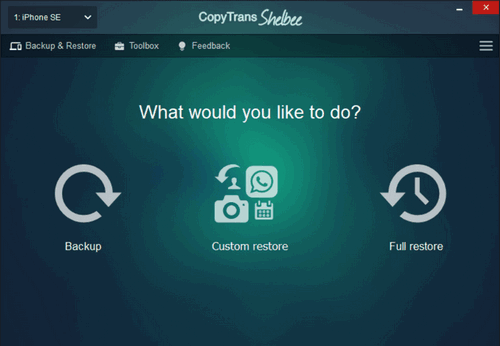 With CopyTrans Shelbee, you can:
🗿 Restore selectively any data from an iPhone backup without overwriting all its other data;
🗿 Restore from an encrypted backup;
🗿 Save and restore iPhone apps, even if they are no longer in the AppStore;
🗿 Make an incremental backup that will contain only the latest changes;
🗿 Change the default folder of an iTunes backup.
How to bring WhatsApps photos back to iPhone:
Download, install and run CopyTrans Shelbee:
Download CopyTrans Shelbee

If you need help installing the app, please refer to the installation guide.

Connect your iPhone to PC. Click on Custom restore, then click on the green pencil icon.

Tap Browse and then Default in the newly opened windows. Click OK. After that, you will see iTunes backups stored on your computer. Choose the one you need.


If the default iTunes backup folder is empty and you want to look for backups stored in other folders of your PC and iCloud backups, follow this guide

how to find iPhone backup location

with

CopyTrans Backup Extractor

.

The app will ask you to enter your encryption password. What is an iOS backup password? Then click Next.

Wait until the decrypting process finishes.

The next screen shows all types of data available for restore. Select WhatsApp, then click Next.

➕ You can select more components if you want to, so don't be shy!

Log in to your Apple account in the next window. We care about your online safety: your credentials go directly to Apple through a secure SSL connection.

CopyTrans Shelbee will ask you to choose where you want to save the backup of your device in case something goes wrong during the Custom restore. Select the destination and click Start.

Please note that the data you selected will be overwritten. Click Next.

Wait until the restore process finishes. After that your device will restart.


That's it! Your WhatsApp chat and chat images have been restored. Your device will now restart.