Whether you wish to quickly free up some iPhone space or you need to download videos from iPhone to PC for editing purposes, this guide will show you how to transfer videos from iPhone to computer in a few clicks.
With our help, you will be able to:
get videos off your iPhone in the highest quality,
select and manage your Video Library on the iPhone,
delete videos from your iPhone if necessary.
Keep on reading for detailed info on the best methods to transfer videos from iPhone to PC without iTunes below.
If you prefer video to text, here is our YouTube tutorial.
How to transfer videos from iPhone to computer
without iTunes or iCloud
If you are looking for a quick instruction on how to get videos from iPhone to computer, we have a solution just for you – CopyTrans Photo. The app has an intuitive interface, gets things done quickly and you can see thumbnails of all the files you're operating at any moment.
Why people choose CopyTrans Photo:
◻ Introduces a convenient way to manage photos and videos on your iPhone from PC;
◻ Transfers photos in HEIC, bmp, gif, jpeg, jpg, dng, tiff, tif, tga, png, pcx, dng (ProRAW).
◻ Transfers photos and videos between iPhone and PC preserving the original quality and EXIF data;
◻ Copies photo albums back and forth, preserving the album structure;
◻ Works offline;
◻ Compatible with the latest iOS, iTunes, and Windows versions.
The process of transfer is intuitive, but you can always see our instructions below!
Download CopyTrans Photo for free from the following page:
Download CopyTrans Photo
Install the program. If you need help installing CopyTrans Photo, please refer to the installation guide.
Start CopyTrans Photo and plug in the iPhone to the PC. iPhone videos and albums will appear on the left-hand side of the program window while PC folders will appear on the right.

Select Videos from the album list on the left.

Select or create a PC folder where you wish to put the videos by using the pane on the right-hand side. To create a new folder, click on the Green Folder symbol on the top.

Choose the videos you want to transfer from iPhone to computer. To select multiple files, press and hold CTRL on your keyboard while clicking on each video. To select all the videos in the folder, click on an empty area within the iPhone working area and then press CTRL + A.

Drag and drop the selected videos to the right-hand side.

Click on Apply changes to save the result of the transfer.
That's it! Your iPhone videos are now transferred to the PC folder of your choice.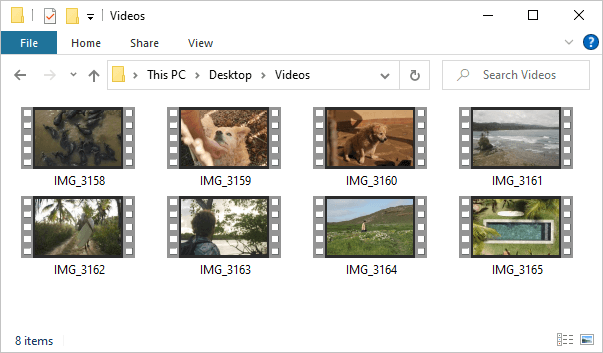 ---
How to transfer videos from iPhone to PC Windows 10
YouTube tutorial
---
How to transfer videos from iPhone to PC
via Windows Photos app
The other way to move videos from iPhone to PC is to use native Microsoft Photos app (Windows 10 only).
Follow the steps:
Connect your iPhone to PC with a USB cable, then unlock your device.

Make sure you have iTunes 12.5.1 or later installed on your PC.

Go to Start -> Search for Photos app and run it.

In the top-right corner, select Import -> From a connected device.

Select the video file (or files) you want to save to PC and click on Import.

Find the video in the Pictures folder.
Unfortunately, no matter how powerful Microsoft Photos App may sound, it's quite common that Windows Photos App is not showing photos or Windows 10 Photos App won't open. It happens due to bugs in the app, Windows OS glitches, virus in the system, or even corruption in the program files.
---
How to import videos from iPhone to PC
via File Explorer
The most straightforward, but also the most time-consuming way of importing video from iPhone is through File Explorer.
Here is how to move videos from iPhone to PC:
Connect your iPhone to PC using a USB cable.
Open File Explorer. There should be an icon representing your iPhone – double-click on it.

Open the DCIM folder. The folder contains all the pictures from your iPhone.

File Explorer doesn't sort pictures and videos. Finding the video you need may take quite a bit of tediously rumbling through random files.

Find the video -> right-click on it and select Copy.

Navigate to any folder on your PC, right-click again and select Paste. Done.