Whether you wish to quickly free up some iPhone space or to need your iPhone videos on your computer for editing/processing purposes, this guide will show you how to transfer videos from iPhone to PC in a few clicks.
With our help, you will be able to:
get videos off your iPhone in the highest quality,
select and manage your Video Library on the iPhone,
delete videos from your iPhone, if necessary.
This method works for any existing iPhone model, as well as iPad and iPod Touch, and ensures a guaranteed transfer to Windows 7, 8.1 and 10.
How to transfer videos from iPhone to computer
To start transferring videos from your iPhone to PC, you will need a tool called CopyTrans Photo. Download and try it here:

Install the program. If you need help installing CopyTrans Photo, please refer to the installation guide.

Start CopyTrans Photo and connect the iPhone to your computer. The iPhone videos, photos and albums will appear on the left-hand side of the main program window. The PC videos, photos and folders will appear on the right.

Select the album "Videos" from the pane on the far left.

Select or create a PC folder where you wish to put the videos by using the pane located on the far right. To create a new folder, click on the green folder symbol on top.

Choose the videos you want to transfer from iPhone to computer. To select multiple videos press and hold the CTRL key and click on the videos you want to transfer. To select all videos, click on an empty area within the iPhone videos pane and then press CTRL + A.

Drag and drop the selected set of items from the left- to the right-hand side.

Click on "Apply changes" to save the result of the transfer.
That's it! Your iPhone videos are now transferred to the PC folder of your choice.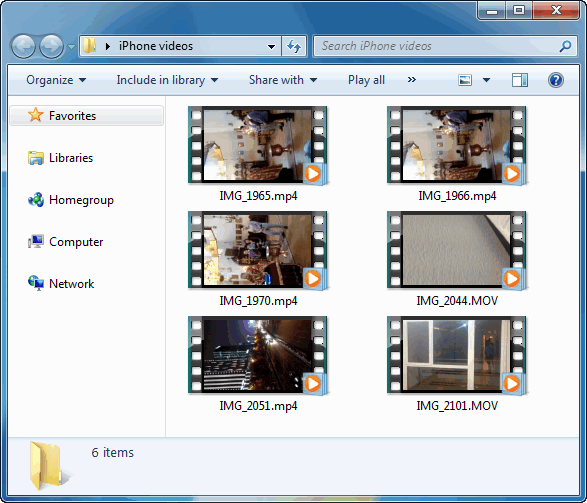 Transfer iPhone from iPhone to computer – YouTube tutorial