If you live in a home with multiple iPhones and iPads, you've probably run into this problem. Somebody connects their iPhone to the family computer and accidentally ends up with all your contacts and other private content, or with no content at all. Don't let this happen to you.
This article shows how to separately back up multiple iOS devices to a single computer.
Watch our YouTube tutorial:
Or read the article below:
Unlike iTunes, CopyTrans Shelbee lets you back up your iPhone to the location of your choice which means that you can save each iPhone, iPad and iPod Touch backup to a separate folder.

The ability to back up wherever you want also helps you to avoid running out of space on your C drive with content from multiple backups by backing up to an external drive instead. Here's how it works:
Get CopyTrans Shelbee by clicking on the button below: Download CopyTrans Shelbee

Start the program and connect all the iOS devices you wish to back up. CopyTrans Shelbee supports all iPhone, iPad and iPod Touch models. Once the devices are recognized, they appear listed in the drop-down menu on the top left of the program window. Select the first iPhone to back up.

Once selected, click "Backup" in the main menu.

Click "Full backup".

Now it's time to select the backup location. To do so, click on the Pencil symbol and select or create a folder for your backups.

TIP: Select an external drive for the backup if you want to keep your PC disk space free. Multiple iPhone backups take up a lot of space.

Select "Start" to begin the backup.

The backup is in progress. CopyTrans Shelbee backups include Phone messages, contacts, settings, apps and app documents, Camera Roll, calendars and more.
If you decide to encrypt the backup, your Keychain (including passwords for email accounts), Wi-Fi and saved websites will also get backed up.

Hooray! The backup of the first iPhone is complete.

Now select another iPhone or iPad from the drop-down menu on the top left and repeat steps 2 to 8 to back up that device too.
CopyTrans Shelbee keeps each backup in a separate folder at the destination of your choice.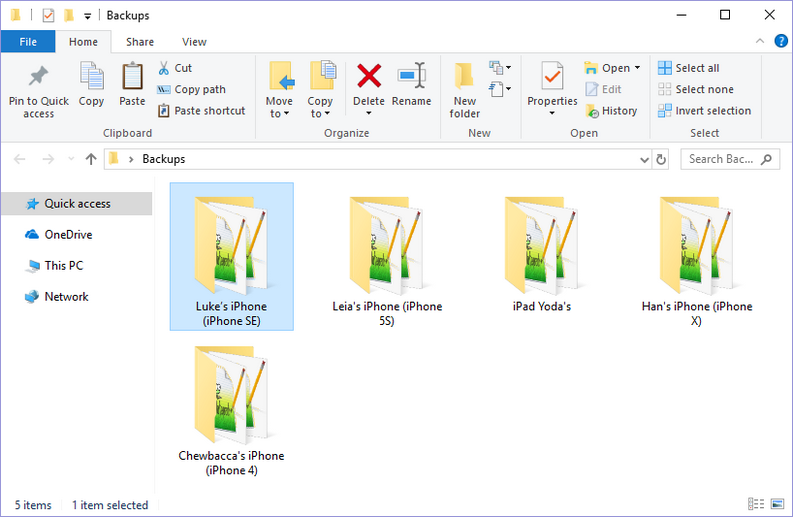 This is how to back up multiple iPhones to a single PC while keeping your content separate and private.