Cannot transfer songs or videos to your PC or iTunes library because CopyTrans not working? Are you experiencing an iTunes library sync issue with CopyTrans? In the vast majority of times, the problem is related to the iPhone or a PC misconfiguration and not directly to CopyTrans.
Click on the statement that describes your issue most accurately and follow the suggested troubleshooting steps:
One or multiple songs or videos failed to copy:
The problem occurs with my iPhone, iPod, or iPod Touch
CopyTrans returns the following message at the end of the iPhone, iPad or iPod Touch backup saying that one or multiple songs, or videos failed to copy.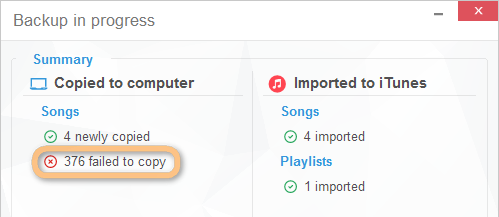 In most cases, the problem is caused by the connection between your iOS device and the PC failing during the CopyTrans backup process. Please follow the below steps precisely to resolve the issue.
Respect all suggestions here: Connection with iPod / iPhone is lost.
Ensure that you have the computer set to Performance mode and not Power-saver from the Power options and that CopyTrans is allowed through the firewall and your security software.
If you have the default Windows Firewall active, please follow these instructions to allow CopyTrans through: Allow a program to communicate through Windows Firewall.
The problem occurs with my iPod Classic, iPod nano, or iPod shuffle
In the vast majority of cases, this means that your iPod library file is corrupted. Corruption usually occurs when you unplug the iPod without ejecting it first or if you drop the iPod while the hard drive (applicable to iPod Classic) is spinning, for example.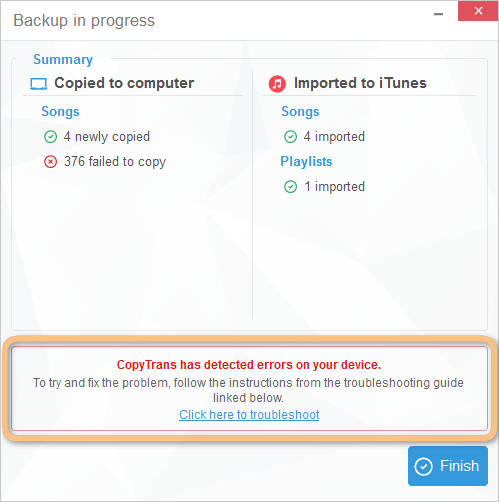 To diagnose and resolve the corruption issue, please follow these troubleshooting instructions: How to fix iPod corruption errors.
CopyTrans does not see some of iPhone songs or playlists
If you don't see some or all of your iPhone, iPad or iPod touch music tracks in the main CopyTrans window, please note that CopyTrans will not display:
tracks purchased from the iTunes Store that are not saved locally (offline) on the iPhone;
tracks synced with iCloud Music Library and sourced from Apple Music;
songs, videos, and podcasts that are saved outside the default Music, Videos, Photos, and Podcasts apps.
Therefore, CopyTrans only displays local non-Apple Music tracks. These are, for example, songs that you copied from a computer to the iPhone or songs that you purchased from the iTunes Store and are available for offline play.
NOTE: Never keep an empty or incomplete iTunes library open on your PC with your iPhone connected. You risk iTunes sync to delete contents off your iPhone, iPad, or iPod. Always make sure that CopyTrans is running before connecting the iPhone to the computer to prevent unwanted iTunes synchronization.
CopyTrans detects my iPod but not its media files
Purchased songs and videos are not shown in CopyTrans
Are all of your songs purchased and downloaded directly from the iPhone or iPad? Are your tracks sourced via iTunes Match? If yes, please check the steps from the preceding troubleshooting line: "CopyTrans does not see some of my iPod songs or playlists".
Non-purchased songs and videos are not shown in CopyTrans
Ensure that the connection between your iPod is and PC is not interrupted at any stage. Here's how.
Did you accidentally allow an empty or incomplete iTunes library to sync with your iPhone, iPad, or iPod? iTunes might have tampered with the iPod library file. If you can still play the songs or videos on the iPod, follow the steps below:
Run CopyTrans and connect your iPhone, iPad, or iPod.
Immediately after that, press and hold the CTRL + ALT keys on the keyboard until a message reading "Listing iPhone tracks" appears within the main CopyTrans window.
CopyTrans will now try to list all of the tracks physically existing on your iPhone or iPad regardless of the iDevice library file.
Stand by until the tracklisting is complete, and then continue with a CopyTrans backup.

NOTE: When listing tracks in the method described above, CopyTrans can, unfortunately, not bring track data such as play-count and star rating, nor playlist data. This information is stored in the iPod library file, which was tampered with during the failed iTunes sync.
CopyTrans detects my iPhone but takes a while to list files
CopyTrans should be quick to load your iPhone contents.
Sometimes, CopyTrans may take longer to load data from your iPhone due to various factors like PC speed, number of tracks, apps, or photos in your Camera Roll.
Please be patient and give the program as much time as it needs to load the iPhone songs and playlists. While the Windows blue circular icon appears, CopyTrans lists the tracks and playlists.
Prevent CopyTrans from loading items in your Camera Roll
If you have a large number of videos in your iPhone's Camera Roll, you can disable loading the Camera Roll to decrease the amount of time CopyTrans takes to load the data. To prevent CopyTrans from loading the Camera Roll videos:
Run CopyTrans and navigate to More > Settings.
Click "Advanced settings".
In the Search box of the "Advanced settings" window, type "tracks.ignore" and change the value of "general.tracks.ignore_camera_roll" setting from "no" to "yes" (double-click on "no" to be able to change the setting).
Restart CopyTrans, connect your iPhone or iPad, and see whether the tracks get listed quicker now.
The backup gets stuck on a single track
Some track files on your iPhone, iPad, or iPod, such as videos, long audio files, or certain apps can be exceptionally large. Please be patient and allow CopyTrans as much time as it needs to copy the track even if the backup process appears stuck. If the issue persists:
CopyTrans says that my iTunes library is corrupt
A corrupt library means that there's something wrong with the iTunes library on your PC and that CopyTrans cannot correctly recognize it.
Check whether you can start iTunes and correctly access listed tracks.
Make sure you have the latest iTunes version installed.
Manually back up your iPhone tracks and playlists to a chosen PC folder CopyTrans does not need access to the iTunes library in this case.
If nothing helps, we suggest creating a new empty iTunes library via the method described below: How to create an alternate iTunes Library file.
Then attempt to backup once more.
iTunes asks me for a password when trying to play a song or video
It means that the song is DRM-protected and can only be played after you enter the Apple ID and password with which it was originally purchased. CopyTrans is not designed to remove DRM protection.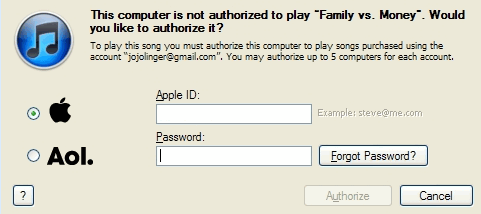 So, in most cases, when you might think that CopyTrans not working, it can be easily solved with one of the troubleshooting steps listed in this guide. It is usually caused by the library size or iTunes limitations.
I need more help
If the above troubleshooter guide did not help resolve the problem or if you experience a different issue, please:
send a concise description of the problem and tell us the troubleshooting steps you followed copytrans@copytrans.net
Also, attach the program log files to your email. Here's how.