Your Viber had a stroke and accidentally deleted messages on iPhone? We got your six! We can provide you with 3 ways to restore Viber messages back to your iPhone.
How to restore Viber messages
from iTunes backup
If you have previously made a full backup of your iPhone or iPad with iTunes, you can easily restore Viber chats and even retrieve deleted Viber messages from a backup.
There's one major drawback — you won't be able to select just Viber. All the data from your backup will be restored to your iPhone.
If this is exactly what you are looking for, head to the Apple Support official website to learn how to restore your iPhone, iPad, or iPod touch from an iTunes backup. If you want to restore just Viber messages, please refer to this section of the guide.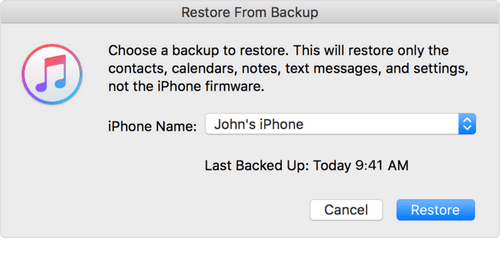 How to recover Viber chat history
from iCloud
If you back up everything to Apple's native cloud storage, you can easily recover Viber messages from iCloud. All you need to do is to sigh in to your iCloud account on the new device and activate the app to finish the process. Viber automatically detects the existing backup and offers you to recover Viber chat history right away.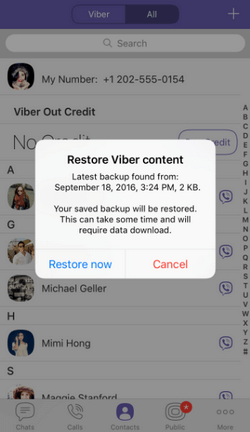 But you might encounter several obstacles on your way:
⭕ Viber backups are not enabled by default. If you haven't enabled this feature in advance, you won't have a Viber backup in your iCloud.
⭕ You won't be able to restore Viber messages to a phone with a different Apple ID.
⭕ A Viber backup will take up precious space in your iCloud storage.
👍 If you would like to escape these complications, use this method described below.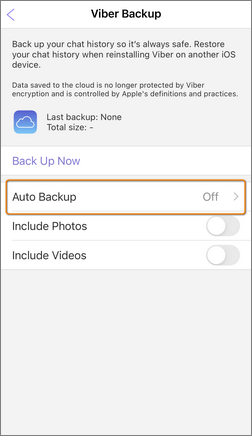 How to retrieve deleted messages from Viber
CopyTrans Shelbee is a handy app if you need to retrieve ONLY Viber messages from an iTunes backup. Where the hell am I supposed to take an iTunes backup, you are asking. iTunes backs up your iPhone every time you sync your device to it, or when you use this app to upgrade to the latest iOS version.
Here's how to recover deleted Viber messages on iPhone:
Download CopyTrans Shelbee from the following page: Download trial version for free
Install the program. If you need help installing CopyTrans Shelbee, please refer to the Installation guide.
Run the program and connect your iPhone. Сlick on Custom restore, then click on the green pencil icon.

Tap Browse and then Default in the newly opened windows. Click OK. After that, you will see iTunes backups stored on your computer. Choose the one you need.


If the default iTunes backup folder is empty and you want to look for backups stored in other folders of your PC and iCloud backups, follow this guide

how to find iPhone backup location

with

CopyTrans Backup Extractor

.

The app might ask you to enter your encryption password. Then click Next.

In the next window, go to the search bar and search for the Viber app. To continue, click Next.


Next, log in with your Apple ID credentials. You can skip this step, but it's recommended you don't because if some apps can't be restored from the backup, CopyTrans Shelbee will download them directly from the App Store.

NOTE: We care about your online safety: your credentials go directly to Apple through a secure SSL connection.

CopyTrans Shelbee will ask you to choose where you want to save the backup of your device in case something goes wrong during the Custom restore. Select the destination and click Start.

Please note that the existing data will be overwritten. Confirm the restore and hit Next.

Wait until the restore is finished and check you device!
Important: If the restore fails for some unknown reason, see the troubleshooting steps for when the backup is corrupt.

If you transfer Viber to a new iPhone or you have checked your iPhone and the app is not there, you need to redownload the Viber app from the App Store after the restore is finished. As soon as you download the app on your device, the app data will be automatically restored.
How to retrieve deleted Viber messages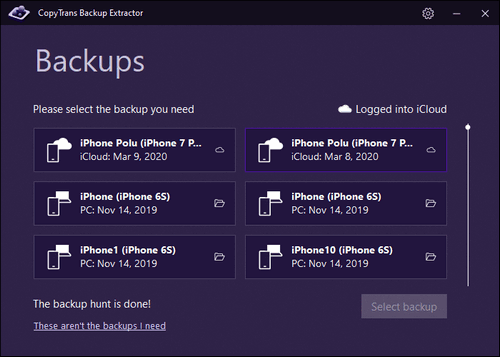 You can also recover Viber messages from an iTunes or iCloud backup to a folder on your PC. Search for backups FOR FREE with CopyTrans Backup Extractor: How to retrieve deleted text messages.
It'll also help you extract iMessages, SMS, WhatsApp, and LINE chats from an iPhone backup in .PDF format with attachments securely saved in a separate folder.
Recovering Viber messages | FAQ
How can I recover deleted messages from Viber without iPhone backup?
Even if you haven't done a backup yourself, you still might have one.
🍀 Firstly, if you are logged in to your Apple ID, your iPhone does automatic backups. Search for iCloud backups with CopyTrans Backup Extractor and extract Viber messages directly to your PC.
🍀 Secondly, iTunes backs up your iPhone every time you sync your device to it, or when you use this app to upgrade to the latest iOS version. You will be able to locate this backup with CopyTrans Shelbee.
🍀 Thirdly, you might have done a backup with a third-party software in the past. If it is still on your PC, CopyTrans Backup Extractor will find it. Although we can't promise 100% compatibility, use Backup Extractor to retrieve messages from this backup to your PC or try CopyTrans Shelbee to see what it will be able to restore back to your phone.
How can I save my Viber messages to my computer?
To export Viber chats, use CopyTrans Contacts. We've gotten a nice simple guide how to back up Viber messages to PC. The app will transfer your messages as a .pdf document with attachments in a separate folder. That way you will be able to print them out to present in court or any other institution.
How do I backup Viber messages on Windows?
If you want to backup your Viber messages to restore them later on a new phone, use CopyTrans Shelbee and the instructions given above. If you need to back them up directly to your Windows computer as PDF files, use CopyTrans Backup Extractor and this guide: How to retrieve deleted text messages.
Are Viber chats backed up?
To check it, go to More tab > Settings > Account > Viber Backup. Don't forget to switch Photos and Videos toggles on!