Viber is, like any other messanger on your iPhone, is an easy and convenient way to keep in touch with your friends and family. Some users need their Viber messages backed up to the PC when, for instance, you don't have enough free space on your iPhone. However, sometimes users may face issues when transferring Viber messages to the PC:
✘ Cannot email the chats to save them on the PC anymore;
✘ Impossible to save the messages via the desktop app;
✘ Unable to extract the chats in a readable format from the iCloud backup.
This article explains how to backup Viber messages with benefits:
✓ back up Viber message to your PC;
✓ save all photos and videos from your Viber conversation;
✓ back up only the messages you need;
✓ export Viber messages to PDF (looks exactly like on your iPhone).
Contents:
---
How to save Viber messages
First, you'll need a tool to save Viber messages. Download CopyTrans Contacts on the computer: Download CopyTrans Contacts

Install the program. Please refer to the installation guide if you need help installing CopyTrans Contacts.

Start CopyTrans Contacts and connect your iPhone to the PC with a USB cable. Wait while the program is loading the data.

Click the speech bubble icon on the left. From the list of sources on the top right, select Viber. This action will display all of your Viber messages from your iPhone.

Select the conversations to back up by checking the box on the left of each message. To select all Viber messages at once, check the Messages box on the top.

To export messages for a specific period, click the cogwheel symbol and choose the exact time frame.

Click Export selected.

Select the PC location where you wish to back up the messages.

Select the format in which to back up the messages.

💡 TIP:

We recommend using the

Web page

or

PDF

options since your messages saved in these formats will look the same as they appear on your iPhone. PDF format is also the best if you want to enjoy the full range of your emojis.

Navigate to the selected folder and double-click on the HTML or PDF file to open the conversation.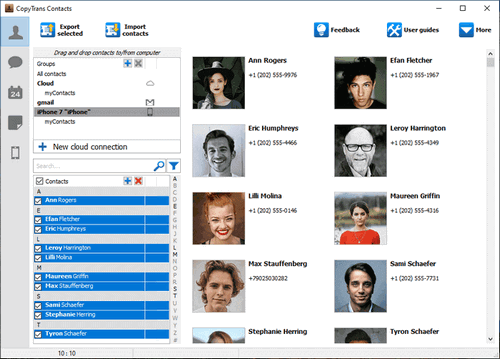 ---
How to backup Viber
YouTube tutorial
Now you know how to transfer Viber messages to your PC avoiding the struggle that Viber has created for its users. As you have those memories saved on your PC, you can free up some space on your iPhone to create even more!
---
Restore Viber messages to iPhone
If you'd like to restore just Viber messages to your iPhone, use CopyTrans Shelbee Custom restore option.

Restore Viber messages only