We received this from a customer the other day: Using iTunes is like arguing with a fundamentalist. He is not the only one to have been taken by surprise from the way iTunes manages (or fundamentally fails to manage) iOS devices.
We've been receiving lots of support requests for a vague iTunes backup error message reading: "iTunes could not back up the iPhone because not enough free space is available on this computer" followed by a suggestion of little or no use: "removing files and emptying the Recycle Bin will free up additional space".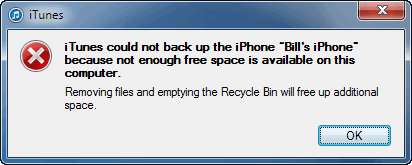 If you ever came across this iTunes error message, read on, as we propose a couple of real solutions to get yourself sorted and successfully backup the iPhone, iPad or iPod Touch.
Two ways out
The easy solution – back up to another drive
We created an easy iPhone backup solution called CopyTrans Shelbee that allows you to backup iPhone wherever you want.
Why is this the easy solution?
Unlike iTunes, CopyTrans Shelbee allows you to back up iPhone to the location of your choice
Deleting files to free up space takes time and is no fun. Instead, back up directly to another drive with plenty of space
Back up in three clicks
No more system folders hiding your iPhone backups. Now you know where the backups are located
CopyTrans Shelbee is a PC tool designed to complete full-featured iOS backup and restore for iPhone, iPad, and iPod Touch. The program works independently of iTunes and quickly helps you forget about the iTunes error message, forever. Here's how quick and simple it is…
NOTE: If you don't have one already, you can easily get an inexpensive high-capacity external hard disk or a USB drive where to keep iPhone backups.
Download and launch CopyTrans Shelbee on your PC, connect the iPhone or iPad and click "Backup".


Download CopyTrans Shelbee


Click "Full backup".
Now choose the location of the iPhone backup away from the default iTunes backup location by clicking the Pencil symbol.
In this case, we'll back up to our PC second drive G:/. You can even create a new folder there.
Once ready, click "Start".
The iPhone backup begins. All iPhone information such as device settings, contacts, calendars, messages, app documents and Camera Roll photos are backed up.
Voila, the backup is complete!
The iPhone backup is saved to the location that you selected in the exact same format as the backup made by iTunes. You can use CopyTrans Shelbee to also restore a previous backup to another device.
This is how easy it is to go around iTunes error message and back up iPhone regardless of the free space left on your primary computer drive.
Back up iPhone to another drive – YouTube tutorial
Free up some space on your PC
You can alternatively clean up your primary system drive to allow iTunes to complete the iPhone backup.
Why is this not the best solution?
You are never sure how much space you need to free up as iTunes does not indicate this
Not a long-term solution as sooner or later you'd need to free up more space
Freeing up space requires that you delete files or uninstall programs that you need
These are some of the quickest solutions to the backup error message "iTunes could not back up the iPhone because not enough free space is available on this computer".

If you need additional guidance, contact our support team; we are happy to help!