I activated iCloud Photo Library, only to realize a few months later that I shouldn't have. iCloud Photo Library is easily the most seamless way to access photos on all your iOS devices but there is a catch – to store photos in iCloud, you must pay. Monthly.
Apple offers 5 GB of free iCloud storage. But try storing iPhone backup files, app documents – and now – photos and still fall within the 5 GB limit. Gotcha!

As a quick fix, download all photos from iCloud to computer with this smart tool.
Let's try to figure this whole iCloud thing out:
What is iCloud Photo Library?
iCloud Photo Library, introduced in iOS 8.1, is designed to push photos you take on the iPhone directly to iCloud in order to reduce the space taken by the Camera Roll and have a valuable backup. The photos are accessible from any iOS device (or Mac) connected with your account.
You can enable or disable iCloud Photo Library from the iCloud settings on the iPhone. Since iOS 9, I found that it comes automatically enabled.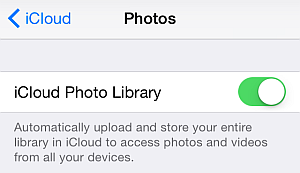 However, it's only the matter of time before your iCloud storage fills up and your iPhone gives you the error message: "iCloud Storage Is Full. Photos, videos, and iCloud Drive are no longer updating". The only solution to this problem is to pay for the extra cloud storage.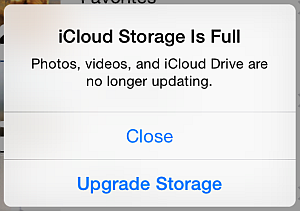 Ready to bring back your photos from iCloud?
Scroll down to see how I did it.
Why I don't like it?
Just like you, I bring my iPhone with me wherever I go. And I take photos; lots of photos. Yet, taking photos is exactly what's at stake. Here's what's wrong:
First of all, you can't possibly fit all within the free 5 GB limit. iOS backups, app documents & data, and now photos coming from multiple devices? Mind you, even the 16 GB of my own old iPhone 5 is barely enough for a fraction of my photos. That's why I regularly copy iPhone photos to my PC and then delete them from the phone to free up space for the next bunch.
Second, you don't really free up iPhone space by activating iCloud Photo Library. Even if you enable "Optimize iPhone Storage", low-resolution versions of your photos are still saved to the iPhone while originals are uploaded to iCloud. The drop in both iCloud and iPhone available storage is inevitable. As a result, when I tried to bring my photos from iCloud back to my iPhone by tapping "Download and Keep Originals", a notification appeared "Cannot Download Photos and Videos. An additional 3.15 GB is required to download your photos and videos to this iPhone". Alas, all I ended up having on my iPhone were the low-res versions of my photos while iCloud got hold of the originals.
Third, it is extremely difficult to bring back your photos on a PC once they are in iCloud. For example, I fired up iCloud Control Panel for Windows and it only displayed 75 photos out of some 3,000+ saved in iCloud! I then tried to download the photos via iCloud.com… I was asked to select and download each of my 3,000+ photos one by one at which point Firefox gave up on me and crashed. I'm sure Chrome would have not stood up to the challenge either.
Now I had thousands of photos in iCloud without a viable way of bringing them back to my iPhone or PC.
After a number of dead-ends and a punishing army of notifications for "Not Enough Storage Available" and "Photos no longer updating", I had no other choice. I paid the ransom. I unlocked a cornucopia of extra iCloud storage (50 GB) for an unimportant monthly charge (of $1).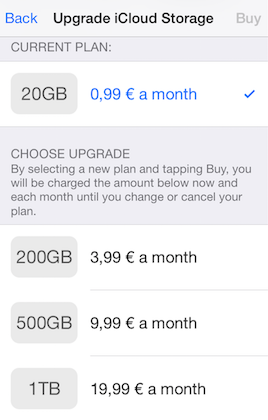 Albeit, my photos remained in iCloud, but at least the notifications stopped. This brought me to a question whose answer is the crux of what's wrong with iCloud Photo Library:
Did I just start paying monthly for the right to take photos with my iPhone?
A dollar a month is nothing; for most of us anyways. Does that mean that we are bound to start giving away a dollar a month for something else as basic as taking photos on our very own mobile devices?
For the time being, at least until Apple does something about it, I've decided to get off the hook.
Stop paying for iCloud Photo Library subscription
Quitting iCloud Photo Library after having started paying for extra iCloud storage is as hard as giving up on your credit card after a long vacation. Yet for me, it was worth coming back to where I was before. I wanted to be in control of my photos and to continue keeping a backup on my PC.
How I got my photos back from iCloud
The easiest way for me was to use CopyTrans Cloudly to download all my photos from iCloud to computer. After that, I've managed to roll back to 5 Gb of free iCloud storage.
Visit CopyTrans Cloudly page to download the app onto your PC.

Log into your iCloud account.

Back up all iCloud photos and videos to a folder or external drive of your choice. CopyTrans Cloudly will carefully save all the albums that you created.

With CopyTrans Cloudly you can rescue photos that you thought were permanently deleted from icloud.com. You might be surprised but some of these photos and videos are still pending on iCloud servers.

Mass delete all your photos and videos from iCloud in one click to roll back to 5Gb of free storage.
The second method also requires iCloud Photo Library enabled on your iPhone. I tried it long before CopyTrans Cloudly and even though it's not as fast, I still managed to download and delete all my photos from iCloud despite the really messy situation I was in!
First, free as much space on the iPhone as you can. This will help you download as many of your original photos as possible from iCloud. To start freeing up iPhone space, navigate to "Settings > General > Storage & iCloud Usage > Manage storage" and under "Storage", tap "Manage Storage".

At this point, I'd suggest that you start deleting apps that you don't use regularly. Don't worry, you can re-download the apps from the AppStore later. Of course, keep the Photos app intact. If you want to delete multiple apps at once, click here.

Delete some or all music from the iPhone if you have all songs saved on your PC. If you don't have them saved already, back up the iPhone songs. You can always transfer the music and videos back to the iPhone later.

When you are happy with the amount of freed-up iPhone space, make sure you are connected to a WiFi network and navigate to "Settings > iCloud > Photos".

Tap "Download and Keep Originals", then open the Photos app. iCloud will start downloading the original versions of your photos to the iPhone memory. It may take some time, so be patient. For most of you, the bad trip may end here, so you can continue directly to step 10 below.

However, in my case, iCloud didn't give up the fight that easily. My iPhone simply didn't have enough storage to download all original photos, so iCloud refused to change the setting. In this case, tap "Ignore", go back to "Manage Storage" under "Settings > General > Storage & iCloud Usage > Manage storage" and free up some more iPhone space (steps 1. to 3. above). Then repeat steps 4. and 5.

If freeing up any more iPhone space is not possible, go back to "Settings > iCloud > Photos" and disable iCloud Photo Library

iCloud now informs you that all low-res photos previously stored on the iPhone will be removed. Tap "Remove from iPhone". Don't worry, you still have access to the original photos in your iCloud account.

Continue downloading original photos to your device. Notice the "All Photos" folder in the Photos app becoming "Camera Roll" after disabling iCloud Photo Library.

When all the photos are back to your device, download CopyTrans Photo on your PC Click here to download CopyTrans Photo

Run the program and connect the iPhone. CopyTrans Photo lists all iPhone photos and albums that are saved locally on the device.

Click the "Full Backup" button on top.

Select the folder where to copy the iPhone photos and hit OK.

The iPhone photos and albums are now backed up to the PC folder of your choice.

You may still have lots of iCloud photos that are still not on the iPhone and that CopyTrans Photo could hence not back up. In this case, use CopyTrans Photo to delete from the iPhone the photos you just backed up. This way, you can free up more space on the device.

Next, on the iPhone, go back to "Settings > iCloud > Photos" and temporarily enable iCloud Photo Library. Make sure that the "Download and Keep Originals" option is checked.

Now go back to the Photos app on the iPhone and watch as more iCloud photos are being downloaded to the iPhone memory in the "All Photos" album. If you have thousands of photos, this may take time.

Once you have the original versions of your photos loaded on the iPhone, back them up to the PC by repeating steps 11. to 14.

When you finally have all photos copied to the PC, don't forget to disable iCloud Photo Library on the iPhone.
This is how slowly but surely, I regained full access to my photos and copied them from iCloud to my PC.
Manage and organize iPad photos without iCloud
Your take
You updated iOS on your iPhone and enabled iCloud Photo Library without grasping the full extent of what this means? Or iCloud Photo Library was enabled by default and you even didn't realize that all your images were pushed to iCloud? Did you get off the hook in time? How do you usually manage iPhone photos? What's your story? Leave a comment in the section below and I'd be happy to respond.