If the iPod is disconnected from the PC while the sync is still in progress, the iPod isn't ejected properly before being disconnected from the PC, or you've used an alternative iPod manager, it can lead to the device library corruption.
Corruption errors can cause the iPod to freeze and may prevent CopyTrans and CopyTrans Manager from properly copying music back and forth. Here's how to repair iPod corruption errors.
Back up your iPhone/iPod data before trying to fix the issue
You can never be too careful when it comes to fixing media library issues. We recommend that you back up the iPhone or iPod data such as songs, videos, photos, contacts, calendars etc before restoring the device with iTunes. Here's how to do so: Back up my entire iPhone/iPod before troubleshooting
You may also choose to only back up your music to PC (so that you may import it later).
Back up my music before troubleshooting
Now that you have backed up the contents of your iPhone, you can start troubleshooting!
Solution A: fix iPod library using CopyTrans Manager
Manually add a song to your iPod through iTunes.

Close iTunes and open CopyTrans Manager again to check if the problem is fixed.
WARNING: To avoid "Automatic synchronization" of your iPod by iTunes click and keep the Shift and Ctrl keys pressed while you open iTunes. Please refer to this FAQ article.
Solution B: fix the library using iTunes
Restore your iPod library through iTunes. This solution will always work but it is radical.
WARNING: This will completely erase the contents of your iPod. You should create a backup of the iPhone/iPod before you restore.
Solution C: see more troubleshooting steps for iPod users
The solutions below will only work for
iPod Nano up to 5G

iPod Classic, iPod Video and iPod Photo

iPod Shuffle up to 2G

iPod Mini
Follow this troubleshooting tutorial.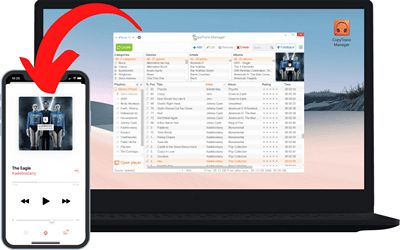 CopyTrans Manager is a lightweight FREE alternative to iTunes
⚡ Transfer music and videos
from PC to iDevice
;
⚡ Create and edit
playlists
;
⚡ Edit
track metadata
;
⚡ Add
album artwork
.
Download for free