Deleting iOS photos is no big challenge if you just need to remove a couple of poor images. However, if you want to delete albums on iPhone or get rid of all photos from your library, you might be asking yourself how to delete albums on iPhone as Apple might set you a series of challenges. This article demonstrates how to delete albums on iPhone – from Camera Roll or any other place, really.
The struggle is real! You can face this issue when:
❌ You downloaded photos to iPhone using iTunes;
❌ You need to permanently delete photos from iPhone;
❌ You need to mass delete photo albums on iPhone.
Choose a place to start:
How to delete photo albums on iPhone
Delete "From My Mac" folders
If you have downloaded photo albums with iTunes, they are automatically added to the From My Mac section. You cannot delete those albums on iPhone.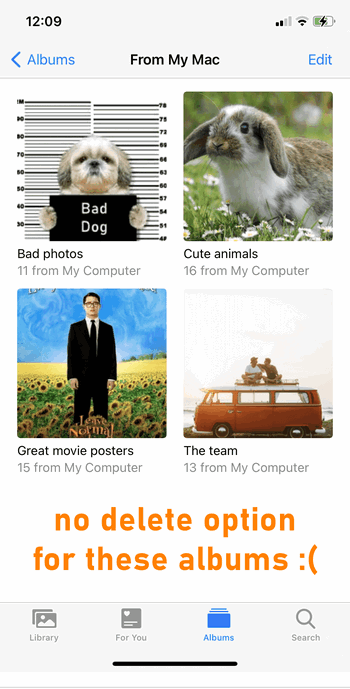 Not to worry. We have a product named CopyTrans Photo, which will:
⭐ Show all the photos in your Photo Library;
⭐ Allow you to delete just one album, not resync all the photos like iTunes;
⭐ Give you an option to delete the album photos for good as well;
⭐ Take a minimum of your time, est. 10 minutes.
So, here's how to delete photo albums on your iPhone if they are stored in the From My Mac folder:
Download and install CopyTrans Photo:

Get CopyTrans Photo

Please refer to the installation guide if you need help installing the program.

Start the program and connect your iPhone. The folder From My Mac will be displayed as Photo Library.
NOTE: What is the difference between Camera Roll and Photo Library?

Choose the album you (don't) want, right-click on it, and select one of the options:

• Delete album. The album will be gone, but the images will stay as part of your Photo Library. They will still take up space on your device, but will not be visible and you won't be able to delete them from your iPhone.

• Delete album & items – recommended. The images will be gone from the album and your device. The album will be deleted.

Confirm the deletion when asked.

Click on Apply changes at the top of the CopyTrans Photo main window.
💡 Tip: you can also delete photos from your iCloud library so they do not reappear on your iPhone!
How to delete an album on iPhone
Erase albums and photos from your iPhone
You may want the album gone together with the photos. Maybe you've had a falling out with someone, or maybe you just don't want anyone to see these photos ever.
Sadly, when you delete an iPhone album (or mass-delete photos inside it), you get a pop-up saying the photos will still stay in your Photo Library: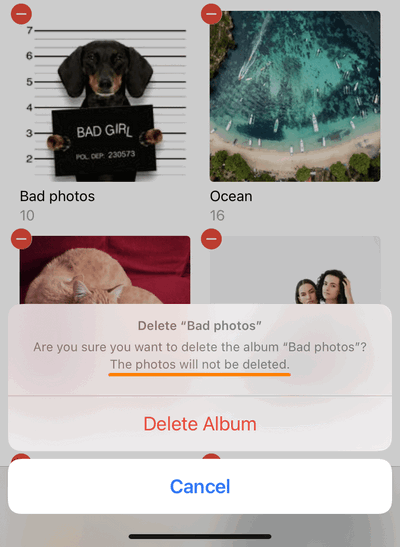 If you want to delete these photos from Camera Roll as well, try our special tool – CopyTrans Photo.
⭐ See all your photos in one window, select the ones you don't need, and delete them in one click. ⭐
Here is how you do it:
If you don't have CopyTrans Photo yet, download and install it:

Launch the program, connect your device, and wait until device photos show up on the left half of the interface.

➕ Scale the photos in the interface using the slider under the left half of the program window.
➕ Expand the borders of the working area by dragging the partition between the two zones to the right.

Select the photos you want to delete one by one while holding down the Ctrl key. Or, just do a simple mouse selection.

➕ If unsure, double-click on the photo to preview it. Note that this will cancel the selection.

When ready, press Delete and confirm the action.

Do not forget to apply the changes! The button will be right above the iPhone photos.

This action will remove the photos from your iPhone completely.

Done! Your photos are somewhere in Neverland now.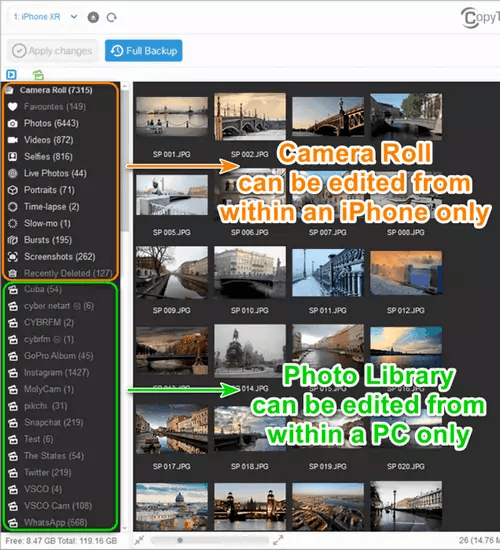 Note:
The general rule of thumb is that photos from Camera Roll and native albums, such as Panoramas, Selfies, Screenshots, Live Photos, etc., can be edited and deleted only from within the iPhone or iPad. Pictures from Photo Library that have been added to the iPhone by iTunes or third-party software can be altered or removed with CopyTrans Photo.
How to delete album on iPhone
Camera Roll albums
This way is for those who just want to remove any album from Camera Roll without deleting the photos.
If you've been there and something didn't work out, read here.
This method would do just fine for deleting albums from iPhone Camera Roll.
‼️ But if you added photos to your device through iTunes or a Mac computer, it won't work.
If the album is stored in From My Mac, you cannot delete it or its photos from iPhone – you need to use a PC.
Take your iPhone, go to Photos -> Albums, and tap See All.
To start deleting, tap Edit in the top-right corner.
To delete albums from your iPhone, simply tap on the ⛔.

Warning

After you've deleted an album on the iPhone, the photos actually stay on your device.
If you want these photos gone as well, clean your Camera Roll from a PC.
Here is how to delete albums on iPhone, whether they were created on the device or imported from a PC through iTunes. Let us know how it goes for you in the comments below!