iCloud can sync notes you take on your iPhone but you need an online connection in order to see them on a PC. This article demonstrates how to back up iCloud notes to the PC so you can access the notes from any Windows 10, Windows 8, 7 or XP computer without an online connection.
IMPORTANT!
Important information for iOS 9 and 10 users!
Learn more →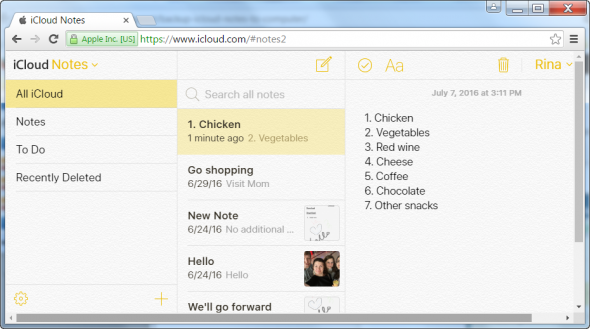 CopyTrans Contacts provides a convenient way to transfer iCloud notes to PC. Just follow these simple steps.
Download CopyTrans Contacts from the following page:
Download CopyTrans Contacts

Install the program. If you need help installing CopyTrans Contacts, please refer to this article.

Run CopyTrans contacts and connect your iPhone. From the main program window, navigate to "More" > "Cloud setup"

Click "+ New connection" and then click "iCloud"

Next, enter your iCloud account credentials, check the box next to Notes and click "Add account"

NOTE: If you experience trouble connecting your iCloud account, please read this troubleshooting article.

Close the "Cloud setup" window. In the main program window, click the Notes icon. You will now see your iCloud notes listed in CopyTrans Contacts' main window. The iCloud notes will be designated by a small cloud icon to the right of each list entry

Select the iCloud notes you wish to back up to your computer and click "Export selected"

Navigate to the location on your PC where you want to back up your iCloud notes.

Your iCloud notes are now backed up on your computer in the form of individual HTML files.
Transfer iPhone music to Windows 10: YouTube video tutorial