Follow the below troubleshooting guide in the event that CopyTrans Photo shows fewer photos in your Camera Roll than what you see on the iPhone itself. In the vast majority of cases, the problem is caused by the fact that you enabled iCloud Photo library on your iPhone.

How to select all photos in iCloud and download all photos to PC
To download and delete all photos and videos you have in iCloud, use our free tool, CopyTrans Cloudly
Download iCloud photos

Run CopyTrans Cloudly. You will see a login screen. Enter your Apple ID and password.


If you have a two-factor authentication enabled, make sure to allow the connection on your device:


Enter the code you received on your device:



Wait until your iCloud Photo Library is loaded. You will see the main app screen after. To download all photos and videos from iCloud, click "Download":


Select which folder you want to download your library to:


Voila! All you need to do now is wait until all your photos and videos are downloaded.

How to disable iCloud Photo library on iPhone
To disable iCloud Photo Library, navigate to the iPhone Settings > iCloud > Photos and toggle the "iCloud Photo Library" switch from ON to OFF.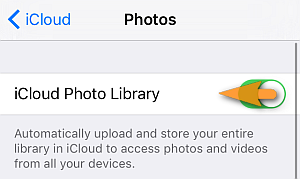 Note
If you already had iCloud Photo Library inactive, and CopyTrans Photo still displayed less photos in the Camera Roll than on the iPhone itself, then the problem lies somewhere else. In this case, please get in touch with the CopyTrans support team directly.
Now start CopyTrans Photo once again and connect the iPhone. CopyTrans Photo will list all your iPhone Camera Roll photos.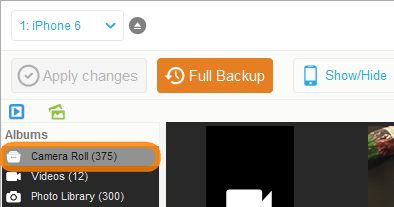 "Optimize iPhone Storage" vs "Download and Keep Originals"
If when disabling iCloud Photo Library, you are prompted to remove some photos, this means that you had the "Optimize iPhone Storage" option enabled.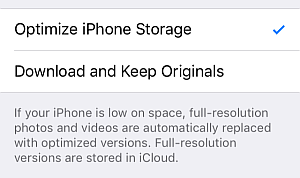 You can go ahead and tap "Remove from iPhone" as the photos that are removed are merely low-resolution copies of your actual photos which are now stored in your iCloud account on iCloud.com.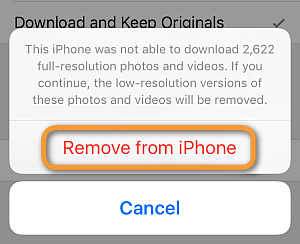 How to download my full-resolution photos back to my iPhone
To download the original photos back to the iPhone from your iCloud account, temporarily enable iCloud Photo Library and tap "Download and Keep Originals"

Now open the iPhone Photos app and watch as your original photos are being downloaded on the iPhone. This may take some time

Once the photo download is complete, disable iCloud Photo Library.
See why enabling iCloud Photo Library may not be a good idea in the first place:
Photos no longer updating: How iCloud Photo Library took hostage of my iPhone photos