You have connected your iPhone to your computer to download photos, but iPhone internal storage is empty, leading to iPhone photos not showing up on PC.
It doesn't matter if you use iTunes, Windows Photos, CopyTrans Photo, or any other application – the issue may occur regardless.
In this article, we list possible reasons and offer several solutions to this problem.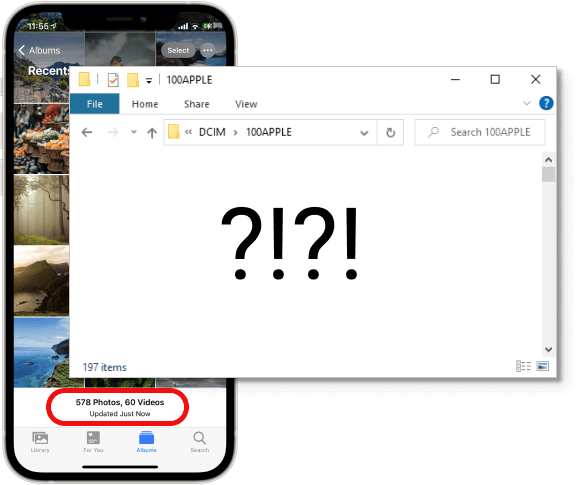 ---
iPhone internal storage empty
Possible reasons and solutions:
Faulty USB connection

Using a uncertified or damaged USB cable may cause the iPhone to be recognized incorrectly on the computer.

⚬ Make sure you are using an original USB cable and it is not unnaturally kinked or damaged.
⚬ Verify that the USB port on your computer works. Try using a different port or USB cable.

iCloud Photos is enabled

In case of not all iPhone photos showing up on computer, look out for iCloud sync. If you have iCloud Photos enabled, part of your photos may not be stored on your iPhone, but in Apple's cloud storage. Therefore, you won't see them on your device.

⚬ If you have enough storage space on your iPhone and you don't want to keep your photos in the cloud, turn off iCloud Photos:

Settings -> iCloud -> Photos -> iCloud Photos Off

.

⚬ If you want to continue using iCloud Photos, download all photos from iCloud directly to your computer using CopyTrans Cloudly.Try CopyTrans Cloudly for free

iPhone USB restricted mode

Your iPhone has a special feature called USB accessories. It prevents you from accessing the phone via USB if it has not been unlocked in the past hour. This can prevent you from connecting it to your computer.

⚬ On your iPhone, open Settings -> Face ID and Passcode -> Scroll down & toggle USB Accessories on.
⚬ Then, unlock your iPhone and connect it to your PC.
---
iPhone not showing all photos on computer
If you're done with basic troubleshooting, yet the photos do not appear, it may be a driver or a software issue.
Software issue means you're using an older version of iTunes. According to Apple, photo transfer is only possible starting with iTunes 12.5.1. Update your iTunes and try again!
Driver issue means you haven't installed iTunes at all. We guess you had your reasons, right? If you want to fix iPhone not showing all photos on computer without iTunes, use CopyTrans Photo.
CopyTrans Photo can do what iTunes cannot:
⚡ Install Apple drivers without installing iTunes;
⚡ Show iPhone photos on PC, sorted by date or size;
⚡ Delete iPhone photos selectively;
⚡ Make a full or partial backup of your photos;
⚡ Convert HEIC photos to JPEG.
If you do not have the drivers, CopyTrans Photo will see that and offer to install drivers straight away. Just follow the steps:
Install and run CopyTrans Photo

Get CopyTrans Photo

We have an installation guide to help.

Connect your device

Follow the prompts to install iTunes or Apple drivers only.

Browse your photos

After you install the drivers, the issue of iPhone DCIM folder not showing should be gone. You will see iPhone photos on the left and PC photos on the right.

Back up iPhone photos in 3 clicks

You can now export all of your photos to PC in just 3 clicks.

If this is not enough, import selected iPhone photos to PC or clean your iPhone media library.
This is how to combat the curse issue of iPhone internal storage empty and get access to your iPhone photos from PC.