Are you asking yourself this question: "where is my iTunes library"? Have you lost your iTunes music after an iTunes update? Is your iTunes library empty on your new PC? Good thing you have all the tracks on your iPhone – we can effortlessly restore music to iTunes. Follow this guide to learn how to recover the iTunes library.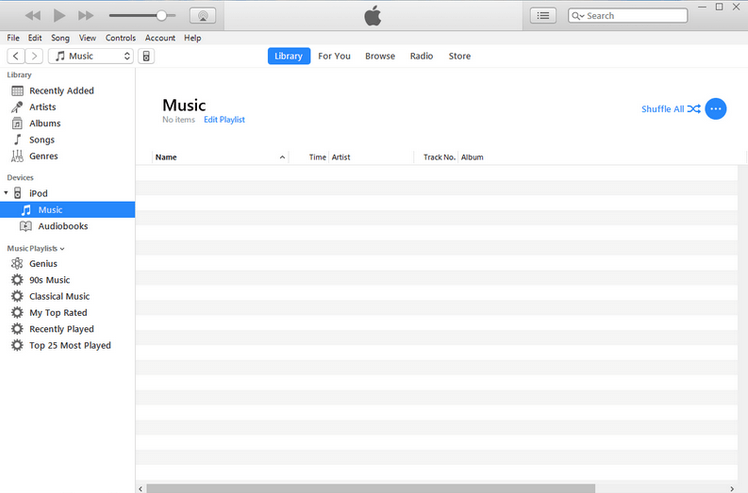 ---
Recover music from iPhone to iTunes
YouTube tutorial
---
iTunes library sync
With iPhone or iPod
Restore iTunes library from iPod with these easy steps. The method is compatible with all iPhone models, including iPhone 13 Pro Max and Windows 7, 8, 10, and 11.
Once the backup is complete, your iTunes library is back to the way it was: songs, playlists, album art, star ratings, and play counts included.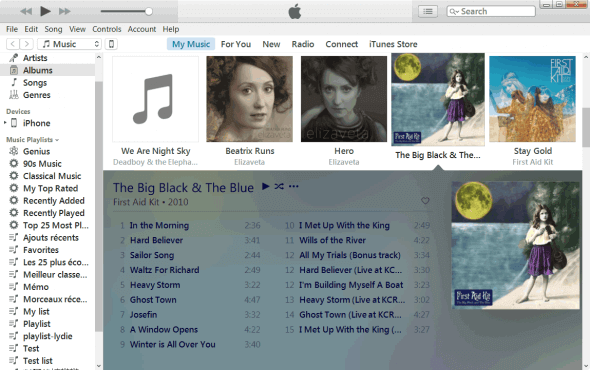 First, download and install CopyTrans:
Download CopyTrans

Make sure that iTunes is closed and run CopyTrans.

Connect your iPhone or iPod to the computer. Your music library will load in a few seconds.

To restore the iTunes library, select iTunes.
💡 TIP: Even if you have tracks in your iTunes library, CopyTrans matches the contents of iTunes with the information on your iDevice to avoid duplicates.

Wait until the backup is complete. Enjoy your iPhone music on iTunes!
Advantages of CopyTrans:
✓ Back up music to an external hard drive just in case and keep the structure intact;
✓ Save track data, artworks, and playlists;
✓ Change the library structure before downloading;
✓ Manage songs, videos, TV shows, audio books, and podcasts.
---
Where is my iTunes library?
Access purchased tracks
If you're wondering how to transfer purchased items to iTunes library, it is easier than it sounds:
Go to iTunes and click on Store.
Click on Purchased on the right.
You can find all the music that you've purchased via iTunes here. You can download all or selected tracks back to iTunes.
CopyTrans Manager
You can try our CopyTrans Manager (free software) to transfer music from your PC to your iDevice if you want to avoid using iTunes!
---
My music disappeared from iTunes library
Recover from a backup
You can restore iTunes library from a backup following the steps below:
Transfer folder that contains iTunes backup to the default iTunes folder, a.k.a. My music.
NOTE: If another library exists in the My music folder, copy its contents to the new folder, and transfer the folder with the new information to the My music folder.
Hold the Shift button and launch iTunes.
Click Choose Library… in the pop-up window and select the folder from the step above.
It might be possible that your iTunes cannot locate some of the media files associated with the tracks listed in your library. In this case, the songs will be marked with an exclamation mark. This article explains how to get rid of the exclamation points using iTunes.
You can easily spot the missing tracks in your main iTunes window as the tracks are marked by an exclamation point. iTunes would not play them, even if you try to, and the program would instead inform you that the original media file related to this track can't be found.
If you double-click to play the track, you will receive a prompt from iTunes. Click on the 'Locate' button, and it will present you with a new Explorer browser window where you can look for the missing files.

In most cases, the files will no longer be located at the original location, and you might not remember or know where they are located at the present moment.
Why we don't recommend restoring the library via iTunes:
✘ You also risk losing your music library on your device;
✘ It won't recover music you've acquired from CDs;
✘ You cannot add music from one library to another, only replace one another.
Restoring your iTunes library from your iPhone has never been easier! With CopyTrans, you can import library iTunes from your iPhone and don't need to fear accidental music library loss.
You also might be interested in: