Got all your favorite songs on an iPhone or iPod but you are running out of space on the device and wish to backup the music without clogging up your PC? Easy! Why not backup the iPhone or iPod music to an external drive? This guide explains how to transfer music from iPhone to any USB drive such as an external hard disk or a flash drive.
Let's back up your music to an external hard drive:
Connect the flash drive or external hard disk to the PC.

Download CopyTrans from the page below: Download CopyTrans now

Install the program. If you need help installing CopyTrans, please refer to the installation guide.

Start CopyTrans and connect the iPhone, iPad, or iPod to the PC. CopyTrans displays the device tracks and playlists:

Choose "Manual backup" from the top of the window:

Next, select the songs you wish to backup by clicking on the box next to each track. To select all tracks, including voice memos and videos, click the box next to your iPhone name under the "Playlists" pane. To only backup music, choose Music under the "Categories" pane, then select the songs:

After this, select the backup to Folder:

Choose the USB drive by clicking on the Blue pencil symbol:

Select the external drive (in our case, this was flash drive G:). Click OK:

You can customize the order of folders in your backup in accordance with your preferences.

If you prefer keeping all the tracks from a single list in one folder without creating new subfolders, just leave the relevant fields empty.

After you have adjusted your backup settings, click OK and start the backup.

Let the backup finish.
That's all. The iPhone music is copied to the selected external USB drive.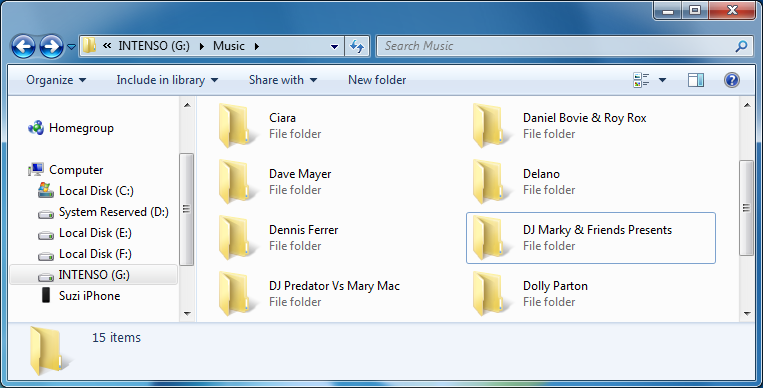 Transfer music from iPhone to external drive – YouTube video guide