One of the most exciting features that came with the iPhone X is, without a doubt, Animoji and Memoji. Thanks to the new infrared camera and the dot projector, the iPhone X can now make you an emoji and then save Animoji on PC. How cool is that?
So, what is the difference between Animoji and Memoji? Animoji uses 3D emoji that map your face, allowing you to project your voice though an animated robot, alien, unicorn, or monkey that in turn opens its mouth, smiles, and moves when you do. Memoji lets users create 3D avatars of themselves that you can use in a similar way to Animoji. The only difference is that your 3D emoji on screen looks like you!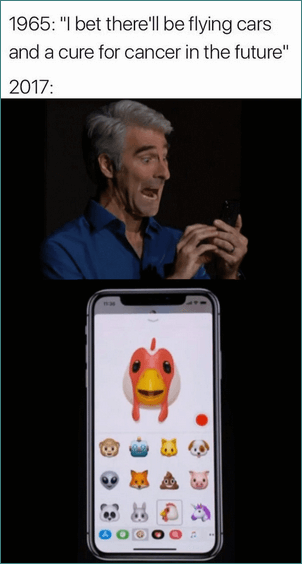 The real question is – how can you save those hilarious messages to your computer? In this guide, we'll describe three ways to transfer them to your Windows PC.
---
Animoji PC
Back up Animoji or Memoji to PC
Follow these steps to back up your Animoji to PC:
First, locate the Animoji or Memoji you wish to backup.

Click on the sent Animoji or Memoji. In the new window, click on the share button in the bottom-left corner:

Next, choose "Save Video" The Memoji will be saved to your Camera Roll.

Now switch to your computer – download CopyTrans Photo from the following page:

Download CopyTrans Photo

Connect your device to PC, open CopyTrans Photo loads photos in the Camera Roll. As soon as you locate your Memoji or Animoji, just drag and drop it to the PC side.

Click on Apply changes to complete the transfer. It's that easy!
Advantages of CopyTrans Photo:
✔️ Live photos and Animoji can be edited and saved on PC;
✔️ The "Full Backup" function recognizes existing photos and does not create duplicates;
✔️ You can transfer photos and videos using drag-and-drop.

---
Memoji stickers
Back up a conversation with multiple Memoji or Animoji to PC
If you're not interested in a single Memoji or Animoji, but want to save the whole conversation in PDF or another format, just follow these simple steps:
Download CopyTrans Contacts from the following page:

Download CopyTrans Contacts

Advantages of CopyTrans Contacts:

✔️ Save messages with all the attachments: Memoji, Animoji, photos, videos, audios, etc.;
✔️ It works with different formats: .xlsx; .vcf; .csv;
✔️ Save contacts in a few clicks;
✔️ Manage all iPhone and iCloud calendars;
✔️ Easy to use, intuitive interface.


Wait until all your data is loaded – this is important! After that, go to the conversation with Animoji or Memoji. It will be displayed as a video icon.

Click on Export selected and choose the PDF, Word, Plain text, or Web format:

Choose the destination folder and click OK.

Navigate to the selected folder on your PC and open the folder with attachments. You should see all the Animoji and Memoji safe and sound on your PC.
With these two easy options you are sure to back up your hilarious animated emojis to your PC.
---
Animoji Download
Extract Memoji and Animoji from backup
If you have a habit of backing up your iPhone to PC, you can easily find all the messages and attachments (Animoji, Memoji, photos or videos) with CopyTrans Backup Extractor.
Advantages of CopyTrans Backup Extractor:
✔️ Save attachments of messages, WhatsApp or Threema (all the emojis, Animoji, photos and videos);
✔️ Compatible with all backups: from iCloud, iTunes, CopyTrans Shelbee or other programs;
✔️ Find all the backups automatically;
✔️ Preview backup content in a trial version of the program to see if the files you need are there.

Just follow these simple steps:
Download and install CopyTrans Backup Extractor:

Download CopyTrans Backup Extractor

CopyTrans Backup Extractor will find all the backups on your PC. Look for the one you need.

NOTE: If you are restoring from iTunes backup, you may be asked for a backup password. What password?

iCloud backups will be marked with a cloud icon and they are never password-protected.

Once the backup is loaded, click on "Messages" -> "Extract".

Now select the destination folder where you want to save the messages.

Finally, you can see all the Memoji and Animoji on your PC.