You want to access the Outlook calendar on your Windows PC from an iPhone or an iPad? The simplest way to do this is to copy the calendar to iCloud.
iCloud's integration with Outlook via the iCloud control panel has been sketchy at best. This guide on the other hand, demonstrates a direct method to export Outlook calendar to iCloud without the use of iCloud control panel.
Let's transfer Outlook calendar to iCloud
First download CopyTrans Contacts Click here to download CopyTrans Contacts

Install the program. If you need help installing CopyTrans Contacts, please refer to this article

Run CopyTrans Contacts and connect the iPhone or iPad

Once you see the main CopyTrans Contacts window, click the "More" button, then choose "Cloud setup"

A new window opens; click "+ New connection", then click "iCloud"

Type in your iCloud account credentials, ensure the "Calendars" box is checked and click "Add account"

NOTE: If you experience trouble connecting your iCloud account, please read this troubleshooting article.

Exit from the Cloud setup window and in the main program window, click on the calendars icon on the left. The iCloud calendar(s) appears in the main program window with a small cloud icon to the right

Click the "Import calendars" button on top

From the newly-opened popup, select "Outlook (direct import from Outlook)"

Select the Outlook calendar that you wish to copy to iCloud and click OK

If Outlook prompts you, grant CopyTrans Contacts access by clicking "Yes"

The Outlook calendar is now on the iPhone. Right-click on the Outlook calendar and choose "Move > Calendars to… > iCloud"

NOTE: The "Move Calendars to…" option adds the Outlook calendar to your iCloud account next to the already existing iCloud calendar.
You can alternatively move just the Outlook calendar appointments to the default iCloud calendar by choosing "Move > Events to…" instead
The Outlook calendar is moved to your iCloud account. This is indicated by the cloud icon that appears on the right.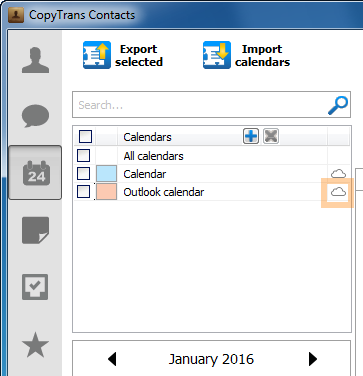 This is how to export Outlook calendar to iCloud.