Are you trying to make your music library look aesthetically pleasing? Or are some of your tracks lacking artwork, and now you're wondering how to change album cover on iPhone? This short guide offers a few easy ways that will help you change your album artwork in a few easy steps.
Two ways to change album artwork:
Change album cover iPhone
Without iTunes
With CopyTrans Manager, you can search missing artwork online or on your PC and easily add it to your iPhone, iPod, and iPad tracks.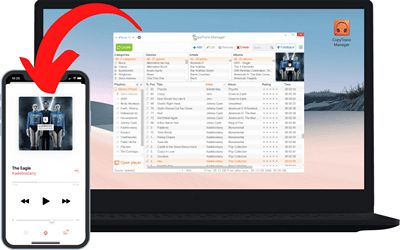 A lightweight iTunes alternative that helps you add music to your iPhone by simply transferring tracks from computer to device. There's no need for an iTunes sync because already-existing iPhone tracks remain untouched on your device. No overwriting!
Along with adding album artwork to iPhone, CopyTrans Manager also allows to:
✅ transfer music, videos, audiobooks, and ringtones from the PC to your iPhone;
✅ change the title, artist, album name, etc.;
✅ manage your existing library;
✅ create and manage playlists.
Run CopyTrans Manager and connect your device.
Select the song(s) to which you'd like to add the artwork(s). To select all the tracks from the list, use the Ctrl+A shortcut.
Right-click on any selected track, and from the dropdown menu, choose Multi edit to edit multiple tracks or Edit to change a single song.
In the newly opened window, select Edit if you want to add artwork manually.
Browse for the previously saved artwork on your PC and double-click on it to open.
Click Search if you would like to find an image on the Internet.
Enter an artist/band name and album title in the empty search boxes. Select the fitting artwork with a double-click.
Apply changes.
That's it! Now you have the artwork for every track in your album. Click Update to save final changes: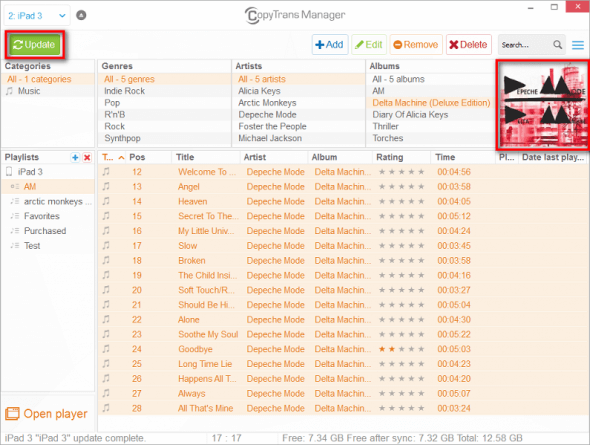 Do you want to know more about CopyTrans Manager? Read our complete CopyTrans Manager Getting Started Guide.
Getting album artwork on iPhone
Using iTunes
You can also use iTunes to add album artwork to any of the songs in your library.
Why we don't recommend using iTunes:
🔴 There's a risk of losing your music library on your device;
🔴 You cannot add music from one library to another, only replace one another;
🔴 It won't recover music you've acquired from CDs.
Run iTunes and find a song with no cover.
Right-click on the album cover and navigate to Album Info.
In the newly opened window, go to the Artwork tab, and click Add Artwork.
After you've chosen the artwork from your PC, it will be displayed in the song info menu.
To make changes to your iPhone, navigate to the iPhone icon in the top left corner of the window.
Tick the Sync Music box and click Apply to apply changes to your iPhone.
Now that you've got the hang of it, you won't be asking yourself how to change album cover on iPhone ever again!
You also might be interested in: