Looking for a free and easy way to transfer custom ringtones to iPhone without iTunes? Can't delete a ringtone from your device? CopyTrans Manager – the free iTunes alternative, helps you add and delete ringtones to any iPhone including the iPhone 8, 8 Plus and iPhone X.
Should you need to create ringtones, be sure to check out the official CopyTrans blog and the article we dedicated to making free custom ringtones: Three ways to make free custom ringtones for your iPhone.
Ringtones are handled like any other music or video files by CopyTrans Manager. Simply drag and drop your ringtone from the Windows file explorer into the CopyTrans Manager window. Here's how it works.
Let's import ringtones to iPhone
Download CopyTrans Manager Download CopyTrans Manager

Install the program. If you need help installing the program, please refer to this article

Run CopyTrans Manager and connect the iPhone. Your iPhone tracks and playlists appear in the program's main window

Open the folder on your PC containing the ringtone track files. Note that in order for the iPhone to recognize the tracks as ringtones, they need to be saved in .m4r format

Drag and drop the ringtones from the Explorer window to the open CopyTrans Manager window

Click "Update" in order to apply the changes
That's it; the ringtones can be found under iPhone Settings > Sounds > Ringtone. You can now set any of the newly-imported ringtones as the default one on your iPhone.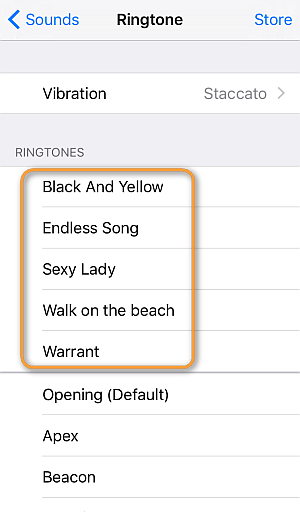 More advantages
In the recent release, Apple got rid of the ringtones tab in iTunes. But even if you manage to add a ringtone to your iPhone, it's impossible to remove it with iTunes. Lucky for you, CopyTrans Manager can delete a ringtone. Just press the delete button in the upper right corner:

More help on adding media files with CopyTrans Manager is available here: How do I add music and videos to my iPod or iPhone.