Still wondering how to add custom ringtones to iPhone? Looking for a free and easy way to transfer custom ringtones to iPhone without iTunes? Can't delete a ringtone from your device? CopyTrans Manager – a free iTunes alternative.
Ringtones are handled like any other music or video files by CopyTrans Manager. Simply drag and drop your ringtone from the Windows File Explorer into the CopyTrans Manager window.
---
How to set a song as a ringtone on iPhone
With CopyTrans Manager you can:
✔️ save ringtones on your PC without iTunes
✔️ just drag-and-drop ringtones
✔️ it is totally FREE
So, how to get ringtones on iPhone? Just follow these steps:
Download and install CopyTrans Manager

Download CopyTrans Manager for FREE

Run CopyTrans Manager and connect the iPhone. Your iPhone tracks and playlists appear in the program's main window.

Open the folder on your PC containing the ringtone track files.
Note: for the iPhone to recognize the tracks as ringtones, they need to be saved in .m4r format.

How to download ringtones on iPhone? Just drag and drop the ringtones from the Explorer window to the open CopyTrans Manager window.

Click Update to apply the changes.

That's how to get custom ringtones on iPhone.
And now, how to change your ringtone to a song? Easy! Got to iPhone Settings > Sounds > Ringtone. You can now set any of the newly imported ringtones as the default one on your iPhone.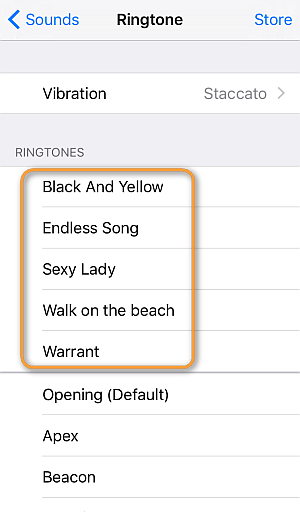 Some time ago Apple got rid of the ringtones tab in iTunes. But even if you manage to add a ringtone to your iPhone, it's impossible to remove it with iTunes. Lucky for you,
CopyTrans Manager
can delete a ringtone. Just press the delete button in the upper right corner:

---
iPhone download ringtone
How to back up iPhone ringtones
We have already shown you how to change ringtone, and maybe now you wish to have a safe backup of your custom iPhone ringtones before updating the iOS version or before moving to another phone. Whatever the case, this quick tutorial shows how to back up iPhone ringtones to PC without the need for iTunes. Just use our CopyTrans and save ringtones in a few clicks.
Advantages of CopyTrans
✔️ Save all the music library to you PC in a few clicks
✔️ Choose separate songs, playlists, or the whole library
✔️ Manage songs, books, audiobooks, ringtones, and playlists

Download CopyTrans on the PC from the page below and install it.

Try CopyTrans for free

After you change ringtone on iPhone, start CopyTrans and connect the iPhone to the computer. Switch to the Classic mode at the bottom-left corner.

The Classic mode lists all iPhone songs, videos, and playlists.

Choose Manual backup on top, then select the "Ringtones" category. CopyTrans now lists all custom ringtones on the iPhone.

Select the ringtones you wish to back up by checking the boxes next to each entry. To select all ringtones at once, click the check box on top of the list.

Click the Backup to "Folder" button.

From the popup, select the folder where to back up the ringtones and click Start backup.

Let the backup complete.

Click "Finish".
The iPhone ringtones are saved to the PC folder of your choice in individual .m4r files. Enjoy!
More help on adding media files with CopyTrans Manager is available here: How do I add music and videos to my iPod or iPhone.