This article helps troubleshoot an issue where the Outlook option in CopyTrans Contacts is grayed-out (inactive and not clickable) when you try to import or export iPhone contacts, notes and calendars.
In the vast majority of cases, the issue is caused by a corrupt Outlook profile or by a corrupt Outlook installation on your computer. This in turn, prevents the correct communication between CopyTrans Contacts and Outlook on the PC. Here's how to resolve the issue.

Important information for iOS 11 users
Due to an iOS 11 limitation, import of notes to an iOS 11 device is no longer possible.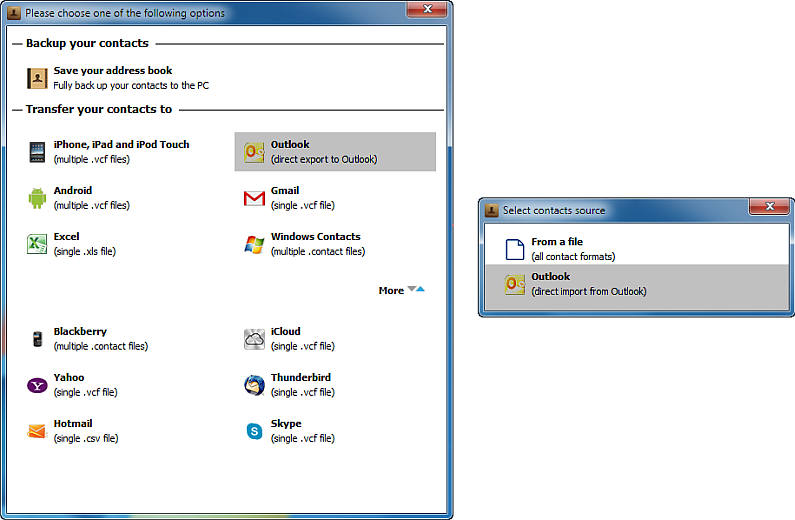 The Outlook option may also be inactive because you don't have Outlook installed on your PC.
Please install Outlook and run it at least once to enable the Outlook option in CopyTrans Contacts.
Re-create your Outlook profile
Re-creating your Outlook profile, or making a new one often resolves the issue. Please follow these Microsoft-provided instructions on how to create a profile in Outlook 2016, 2013, 2010 or 2007. How to create profile in Outlook
Reinstall Outlook
An Outlook installation can become corrupt after a Windows update or after installing an Outlook add-in. Sometimes, you need to reinstall Outlook in order to fix the issue. Reinstalling Outlook does not delete your existing profile contents.
Fire up the Windows Control Panel

Click on "Programs", then "Programs and features"

Find one of the Microsoft Office entry in the list and select it

Click "Uninstall"

Restart your PC and reinstall Outlook