If listing iPhone/iPod tracks takes a very long time, this means that your iPod/iPhone library was either not found or is severely corrupted.
Luckily, CopyTrans bypasses this limitation and automatically searches for all tracks that can be found on the iPod. The backup is created as usual except that the metadata such as playlists, ratings, and playcounts cannot be displayed and copied because those are stored within the iPod library.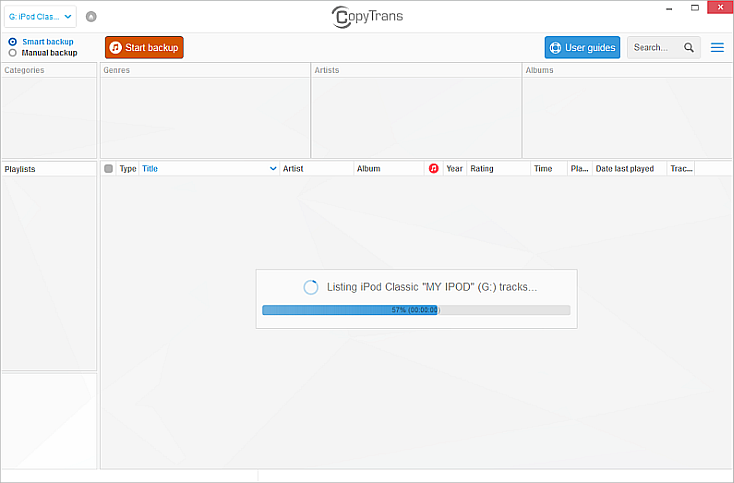 Your iPod/iPhone library can be missing/corrupted for several reasons among which:
The iPod was unplugged without having been properly ejected first.

The use of an alternative iPod manager.

Accidental synchronization/deletion.
To fix the library once you have fully backed up your iPod, try the following solutions:
Manually add a song to your iPod through iTunes. Close iTunes and open CopyTrans Manager again to check if the problem is fixed.
WARNING: To avoid Automatic synchronization of your iPod with iTunes, click and keep the Shift and Ctrl keys pressed while you open iTunes. Please refer to this FAQ article.

Restore your iPod library through iTunes. This solution will always work but is radical.
WARNING: This will completely erase the contents of your iPod. You should create a backup with CopyTrans before you restore.