If you encountered the "iTunes is waiting for Windows update to install the driver for this iPhone" error, it sounds like you need some help getting your computer to recognize your iPhone.

In most cases this issue arises after Windows or Apple software updates. Fortunately, there are some ways you can try to fix it and make iTunes recognized iPhone again.
iTunes is waiting for Windows update to install driver for this iPhone
Upgrade to the latest iOS version.

Upgrading to the latest iOS or iPadOS version provides security updates and bug fixes. Therefore, it can help fix the "iTunes is waiting for Windows update to install the driver for this iPhone" issue.

To check and install the latest updates, go to Settings > General > Software Updates. Download and install the latest update once it is available.

Check out the Apple support article on how to customize automatic iOS updates.

Uninstall and reinstall iTunes on your PC.

Try installing iTunes Classic (not Microsoft Store version). For your convenience, follow the link to download iTunes from the browser.

Another method to fix the issue is by manually updating the iTunes version on your device via Apple Software Update App. Open this app to see if any iTunes latest update is available for your Windows computer:

Make sure you click Trust if asked.

Do not use a USB hub.

Connect the iPhone directly to your computer. Also, use a different USB port on the PC. For desktops with USB connectors on the front and on the back, try with one of the back connectors.

Disable the Restriction on your iPhone.

Open Settings > Screen Time > Content & Privacy Restrictions > Disable it.
Now your Apple device is supposed to be recognized correctly by iTunes.
---
If you're still still unable to connect to iTunes, keep on reading.
❕ The iOS drivers are automatically installed when you install iTunes, but in some cases the drivers may become non-functioning resulting in iTunes not recognizing iPhone.
To troubleshoot this problem, you need to reshuffle Apple drivers – use CopyTrans Drivers Installer (free).
Advantages of CopyTrans Drivers Installer:
✔️ Updates and reinstalls drivers within one app;
✔️ Keeps iTunes library intact;
✔️ Compatible with all iOS devices;
✔️ Quick, easy, and free.
Free download
Watch our YouTube tutorial or follow the text guide below.
YouTube video guide
Step-by-step guide
Here is how to fix the "iTunes is waiting for Windows update to install the driver for this iPhone" error using CopyTrans Drivers Installer:
Download and install CopyTrans Drivers Installer. Download CopyTrans Drivers Installer
Extract CopyTrans Drivers Installer from the ZIP file.
Run the program. Read and accept the License agreement by clicking the I accept button.
Uninstall iTunes and any other Apple related software for CopyTrans Drivers Installer to download the drivers correctly by clicking the Uninstall button. Don't worry, your iTunes library won't be affected.
💡 TIP: If you just wish to uninstall iTunes and any other Apple related software, click Back or close the app.
Click the Install button to start the installation process.
CopyTrans Drivers Installer requires an Internet connection to download the drivers. Make sure you let the program through your firewall. If your Internet connection uses a proxy, you can configure proxy settings in CopyTrans Drivers Installer manually.
💡 TIP: If you want to control the installation process, click You can click here to select the drivers manually instead.
The drivers were successfully installed on your PC.
---
⚡ If you don't like your experience with iTunes, there is always an alternative. There are several third party programs that do most of what iTunes does, if not more. One of these may do the job for you: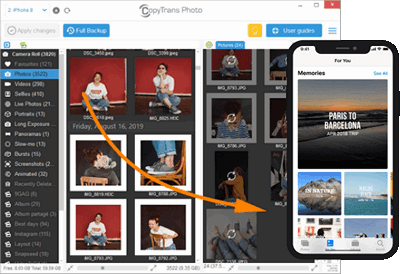 Transfer iPhone photos to the PC and back
Transfer photos and videos from iPhone to PC
Move photos and videos from PC to iPhone
Create and edit iPad albums
Organize photos and preserve album structure
Keep EXIF data intact
JPG, HEIC, MOV, Live photos
Download and try for free!
Manage iPhone contacts, messages, notes, and calendars on your PC
Transfer contacts from one iPhone to another
Back up your messages to a PC
Manage your iPhone and iCloud calendars
Save your iPhone notes to the computer
Download and try for free!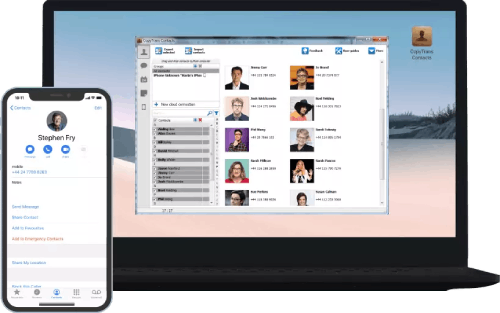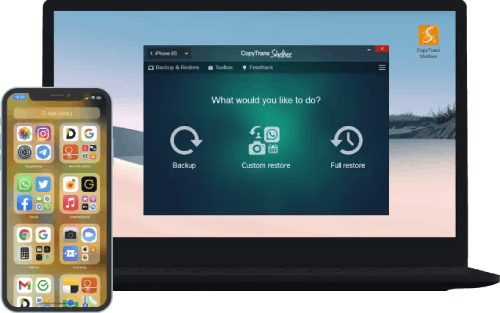 Back up your iPhone to the PC without iTunes
Back up and restore iPhone without iTunes
Restore iPhone data selectively
Restore WhatsApp without iCloud
Transfer iOS apps to new iPhone
Download and try for free!
---
Conclusion
The above-mentioned solutions will help you to troubleshoot the "iTunes is waiting for Windows update to install driver for this iPhone" error so that you can seamlessly connect your Apple device to iTunes without any hassle.
CopyTrans Drivers Installer is the safest and quickest way we know. Did you fix it in a different way? Why not tell us in the comments section below? We'll be happy to add the solution to the list.