This article explains how to easily transfer Blue-Ray videos to iPad by using CopyTrans Manager.
You would need to convert your Blue-ray movie into an iPad-readable format. We suggest you use the following utility: Blue-ray converter.

Run Blue-ray Converter and select the source Blue-ray drive on your PC after having inserted the disc

Next, make sure that the output drop-down menu is set to "Apple devices > iPad"

After you have chosen the destination where the converted file will be saved to, click on the Start button. In my case, the file-save destination is set to my PC's desktop

Blue-ray videos consist of very large files; the conversion process may take a while depending on your computer's characteristics

Once you have the Blue-ray video exported to your computer in an iPad-readable *.mp4 format, you can transfer the file to your iPad via CopyTrans Manager. Simply run CopyTrans Manager, connect your iPad and drag-drop the *.mp4 file to the main program window

Click on the Update button in order to apply the changes. The transfer can take a while depending on your computer's characteristics

After the transfer is complete, you will be able to play your Blue-ray video directly on your iPad.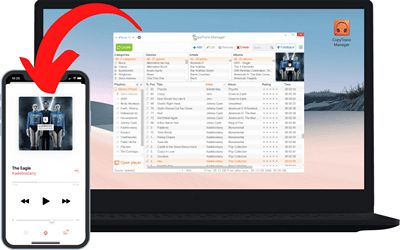 CopyTrans Manager is a lightweight FREE alternative to iTunes
🌞 Transfer music and videos
from PC to iDevice
;
🌞 Create and edit
playlists
;
🌞 Edit
track metadata
;
🌞 Add
album artwork
.
Download for free