This quick guide shows how to use CopyTrans TuneSwift to transfer the entire contents of your iTunes library – including music, videos, apps, books, podcasts, ratings, artworks, playlists, etc – from an old computer to a new PC running Windows 8 or Windows 10.
CopyTrans TuneSwift completely automates the iTunes transfer process so that you can be sure to bring the iTunes library on your new Windows 10 PC exactly as it appears on the old computer. You don't have to worry where your music and videos are located, CopyTrans TuneSwift will locate everything and transfer it to the new PC. CopyTrans TuneSwift also transfers iOS devices backups unlike manual iTunes library transfer.
Download CopyTrans TuneSwift from the following page:
Click to Download CopyTrans TuneSwift

Run the program on the old PC and click on the "Transfer" button.

Next, click on "PC (Windows)".

Now click on "New computer".

BE CAREFUL: It is important to choose "New Computer" as shown on the screenshot below: otherwise, you library will be transferred, not copied.

Select to the location where you want the iTunes library backup to be saved by clicking on the "Browse" button and click "Start transfer". It is highly recommended that you save the iTunes backup to an external drive, so that you can then easily restore it to your Windows 10 or Windows 8.

You can now safely continue working on something else at your convenience until the process fully completes. The time it takes to back up iTunes depends on the library size and on the PC performance.

Once the backup is complete, safely disconnect the external drive where you saved the iTunes backup from your old computer and plug the drive to the new Windows 10 PC.
Time to restore iTunes to the new computer!
Download, install, and run CopyTrans TuneSwift on the new Windows 10 and click "Restore".

Next, navigate to the location where you saved your iTunes backup and select the iTunesBackup.tsw file. Click "Start Restore".

Upon prompt, accept the backup file validation process and let the restore process fully complete.
How to transfer iTunes library from old PC to Windows 10 – YouTube video
Help us spread the word about CopyTrans TuneSwift and share your experience with your friends!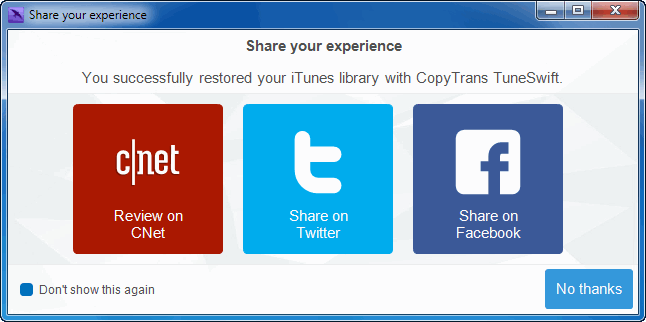 You have now successfully transferred the iTunes library from your old PC to your new Windows 10 computer.