Have you received the following error message "iPod is Mac formatted (HFS+)" in CopyTrans Manager? CopyTrans Manager is unable to read the Mac-formatted iPod library and switches to read-only mode. This short guide will help iPod formatted for Mac change to Windows.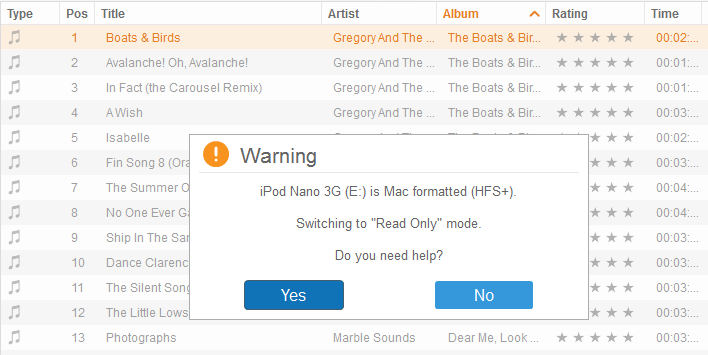 All iPod models except iPhone, iPod Touch and iPad can use two different file systems to store their files: FAT32 and HFS+.
iPods first synchronized on a Mac are in HFS+ format while iPods first synchronized on a PC are in FAT32 format. Mac computers can read and write to both HFS+ and FAT32 iPods. However, Windows PCs can only use FAT32 iPods.
CopyTrans Manager can read and write iPods in FAT32 format, but it can only read iPods in HFS+ format. We, therefore, recommend you to switch to FAT32 format.
How to switch from Mac formatted iPod
Back up the whole contents of your iPod to iTunes. You can easily do that with CopyTrans:
Try CopyTrans for free!
Once the backup is complete, make sure to have all the data stored in a safe place.
Connect the iPod to iTunes and authorize iTunes to restore the iPod.
iTunes will automatically restore it in FAT32 format.
NOTE: Think twice before restoring the iPod as it cannot be undone.
These easy steps will help your iPod formatted for Mac change to Windows in a short period of time!