If you get the message "iTunes requires that your computer is running Windows 7 or newer" when trying to install iTunes on your Windows XP machine, then this is the right article for you.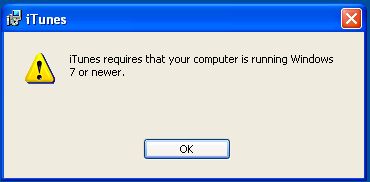 Why do I have this iTunes problem on my Windows XP computer?
The reason is that Apple has dropped the support for Windows XP and Vista by releasing iTunes 12.2 in 2015. The latest iTunes version supporting Windows XP (Service Pack 3) is 12.1.3.6; it adds support for iOS 9 devices but lacks Apple Music and other features added in iTunes 12.2 and 12.3.
Possible solutions.
Though iTunes does not work with your Windows XP machine, CopyTrans does it well. You can manage your files without iTunes at all, whether you have Windows XP, Vista or any of the newer Windows versions, because CopyTrans programs support all of them.
If you need iTunes, you can download the 12.1.3.6 version for Windows XP service pack 3 here.
For Windows XP service pack 2 get iTunes 11.1.5 version here.