CopyTrans TuneSwift provides the only fully automatic iTunes backup solution which allows you to create an exact copy of the iTunes library complete with tracks, ratings, playlists, apps, settings and even iOS backup files. This is in stark contrast to other risky methods of iTunes backup such as manually copying files and folders.
You can choose the location of the backup and can restore the iTunes library at any time just as you left it. Here's how to create a safe backup copy of iTunes on your PC running Windows 7, Windows 8 or Windows 10.
Let's back up the iTunes library
Download CopyTrans TuneSwift on your PC Complete iTunes backup

Install the program. If you need help installing CopyTrans TuneSwift, please refer to this article

Run CopyTrans TuneSwift and click "Backup"

Next, click "Full backup"

NOTE: if you already created a full CopyTrans TuneSwift backup of your iTunes library and you just want to back up the latest iTunes changes read this: How to back up latest iTunes changes.

Click the Green pencil symbol and navigate to the folder where you want the iTunes backup file to be saved

NOTE: we recommend creating the backup file in a safe location, for example, a drive different than the one where the iTunes library is located.

Click "Start Backup"

Stand-by until the backup completes. The larger the iTunes library, the more time needed for the backup

Upon prompt, we recommend validating the backup file. At the validation stage, CopyTrans TuneSwift verifies the integrity of the iTunes backup files

That's it! The entire contents of your iTunes library are now copied into one or a set of TSW backup files at the location of your choice

NOTE: the number of backup files depends on the size of your iTunes library. Each TSW file contains up to 4 GB of iTunes data and is an inseparable part of the iTunes backup. You can restore the iTunes library at any time via using CopyTrans TuneSwift to the same PC or to another computer. The restored library is an exact copy of the library you just backed up!
Congratulations! You successfully backed up the iTunes library with CopyTrans TuneSwift. If you enjoyed the result, give us some kudos and share about your experience!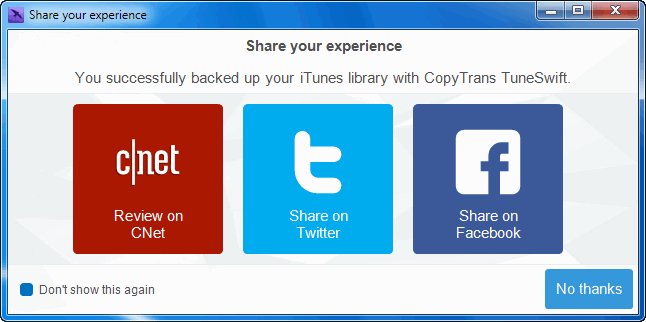 How to back up iTunes – YouTube video tutorial