If you don't see some or all of your iPhone, iPad or iPod touch music tracks in the main CopyTrans window, please read the below article.
CopyTrans will not display:
tracks purchased from the iTunes Store that are not saved locally (offline) on the iDevice

tracks synced with iCloud Music Library and sourced from Apple Music

songs, videos and podcasts that are saved outside the default Music, Videos, Photos, and Podcasts apps
Therefore, CopyTrans only displays local non-Apple Music* tracks. These are, for example, songs that you copied from a computer to the iPhone, or songs that you purchased from the iTunes Store and available for offline play.
Download tracks to iPhone so that they are seen by CopyTrans
Note that the following steps will only work for songs that you purchased off the iTunes Store.
Run the Music App on your iPhone, identify the albums or songs that were purchased off the iTunes Store but are not available for offline use

Tap the three dots on the right of any such album or song

Tap "Make available offline"

Once the track downloads to the iPhone, CopyTrans will display it in the main program window with the rest of the local iPhone songs. Just re-connect the device to the PC while CopyTrans is running and switch CopyTrans to the Classic mode.
*About Apple Music and DRM protection
Apple Music tracks are DRM (Digital Rights Management) protected. This means that you cannot freely transfer songs sourced from Apple Music to a PC, even if the songs are downloaded for offline use on your iPhone. When you enable iCloud Music Library on the iPhone, the local iPhone songs are matched with Apple Music database.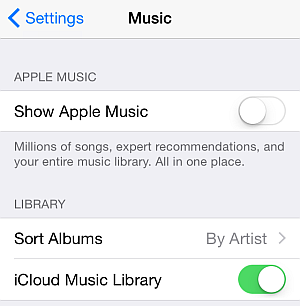 Your library is then seamlessly populated with DRM-protected copies of your songs originating from Apple Music until you choose to disable iCloud Music Library. CopyTrans will not display such tracks.
Back up your music – better be safe than sorry. We strongly recommend backing up the physical songs and videos that exist on your iPhone before (if at all) you resort to enabling iCloud Music Library or Apple Music on the device. Okay! Let's back up my iPhone library.