CopyTrans TuneSwift allows to create full and incremental – "latest changes" – backups of the iTunes library. Use the "Latest changes" backup if you modified the iTunes library since the last time you backed up (i.e. you added or removed tracks, edited playlists, etc). This saves you from having to back up the entire library again while allowing you to retain a complete and up-to-date iTunes backup.
How to perform an incremental iTunes backup
The incremental "Latest changes" backup is based on a previous CopyTrans TuneSwift backup of the iTunes library. Therefore, it will only work if you've already effectuated a full- or another incremental- backup in the past

If you don't already have CopyTrans TuneSwift on the PC, download the program from the following page: Back up iTunes library latest changes

Make sure that the previous TSW backup file(s) which CopyTrans TuneSwift created are readily accessible from your PC. Run CopyTrans TuneSwift and click on "Backup"

Next, click "Latest changes"

Click on the Green pencil symbol and navigate to the previous CopyTrans TuneSwift backup file

The file should be in TSW format. Select the file and click "Open"
NOTE: If you previously made another incremental backup, select the latest INC00X.TSW file instead, where "X" indicates the number of each consecutive incremental backup

Click "Start Backup"

Validate the previous backup file
NOTE: At the validation stage, CopyTrans TuneSwift verifies the integrity of the previous backup file. We recommend that you always validate the iTunes backups you create

Let the backup process complete
Once the "Latest changes" backup is complete, at least one extra file appears at the backup location. The new file features ".inc00X" as part of its name. This file contains the latest changes made to the iTunes library and is an inseparable part from the rest of the TSW files.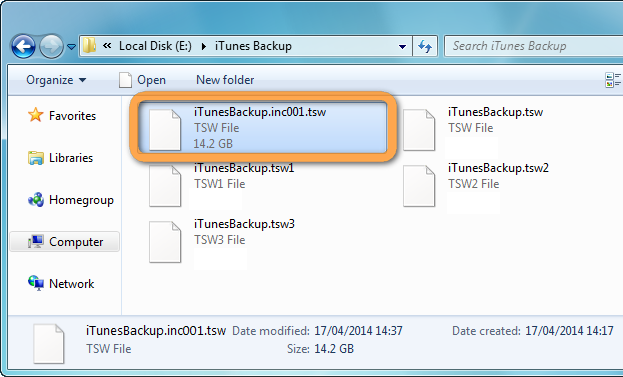 This is how to keep your iTunes backup complete with the latest changes via a CopyTrans TuneSwift incremental backup.