Have you ever thought of transferring photos, videos and funny GIFs from all your WhatsApp, Viber and SMS threads to your home PC? Or saving cool SuperMarioRun stickers from your iMessages to a folder on your computer?
This guide will show you how to export all photos, videos, voice messages and even cute stickers from your iPhone messaging apps and save them to your computer. With CopyTrans Contacts you can save the whole thread or select only the most valuable messages from it.
This method works with all devices running iOS 10 and earlier (starting with iOS 7 for WhatsApp), including iPhone 8, iPhone 8 Plus & iPhone X and with Windows 10, Windows 8 & Windows 7.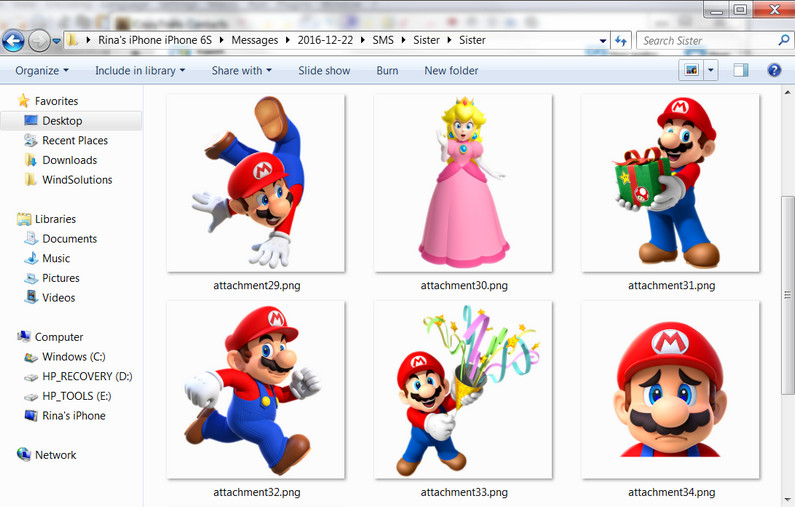 Let's back up your iPhone GIFs, images, videos and voice messages:
First of all, download CopyTrans Contacts from the following page: Download CopyTrans Contacts

NOTE: If CopyTrans Contacts is already installed on your PC, make sure that your version is not earlier than 1.512. If needed, update the program as explained in this article: How to update to the latest CopyTrans version.

Install the program. If you need help installing CopyTrans Contacts, please refer to this article.

Run CopyTrans Contacts and connect your iPhone. The program starts loading the data from your device. If you have ever encrypted your backup with iTunes or CopyTrans Shelbee, enter your encryption password. Let the loading process finish before you start making changes to your iPhone:


Click on the speech bubble icon and stand by until you see all your iPhone text messages. Then select Line, SMS/iMessage, Viber or WhatsApp from the "Sources" pane on the top left. A list of conversations from the chosen messaging app will be listed below:

To export messages for the specific period, click on a cogwheel symbol under a list of messaging apps and set the exact time frames:

Choose conversations to export. To do it tick the checkbox next to each message thread on the left. To select all conversations at once, check the "Messages" box on top:

To select individual messages within each conversation tick boxes against messages that you need. Hit the "Export selected" button:

After this select a backup format. CopyTrans Contacts can back up iPhone messages in various formats including PDF, web page (HTML), Word, plain text, Excel or CSV:

Note: CopyTrans Contacts will automatically place all photos, videos, GIFs, voice messages and stickers from each conversation to a separate folder created on your PC. Please note that the attachment folder will be created for all export formats except Excel and CSV.

Now browse for a location on your PC to place the exported messages (or create a new folder). I prefer saving messages on my desktop so that I could find them easily later. Do it and click OK:

CopyTrans Contacts will create a folder with your device name on your desktop. In my case it's "Rina's iPhone 6S":

So open this folder and tap on Messages:

Select the latest backup folder:

Open the conversation of your choice. You'll find a folder containing all attachments from this exchange inside:
How to back up iPhone messages to the PC: