You can copy your Yahoo notes from your iPhone to your computer easily with CopyTrans Contacts. This article describes how to transfer and save Yahoo notes synced with your iPhone to your PC.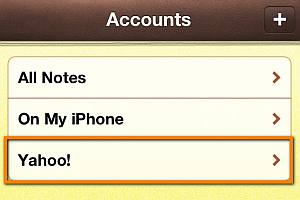 Download CopyTrans Contacts from the following page:
Copy Yahoo notes to PC

Install the program. If you need help installing CopyTrans Contacts, please refer to this article

Run CopyTrans Contacts and connect your iPhone. From the main program window, navigate to "More > Cloud setup"

Click "+ New connection" and then click "Yahoo"

Next, enter the Yahoo account username and password, check the box next to Notes and click "Add account"

Close the "Cloud setup" window and click the Notes button on the left-hand side pane. You will now see your Yahoo note which are marked by the Y! logo to their right

Select the Yahoo notes you want to copy to your PC by ticking each respective checkbox and click "Export selected"

Navigate to the location on your PC where you want to save your Yahoo notes

Your Yahoo notes are now copied to your computer in the form of individual HTML files
This is how to easily copy Yahoo notes from iPhone to your computer.