If you are reading this, it means that you probably got an iTunes error message while trying to back up your iPhone or iPad. We found that most iTunes backup errors can be resolved by a number of easy solutions which we listed in this article.
Did you already encounter one or more of the below iTunes error messages?
"… an unknown error occurred -1."

"… the backup session failed."

"… the iPhone refused the request."

"… an error occurred."

"… a session could not be started."

"… the backup could not be saved on this computer."
You'd be surprised by the number of emails we receive daily with questions related to a range of iTunes error messages that appear during backup. To make our life easier, we decided to summarize all iTunes backup issues in one place and to provide the actual solutions.
Most issues that cause iTunes backup errors occur either on the side of your iPhone or your PC. Depending on the culprit, the following actions will get you sorted:
Restart your iOS device. Begin by restarting your iPhone, iPad, or iPod Touch with which you experience the trouble. This may bring the quick fix. As you are on a roll, we'd recommend restarting your PC too.

Install the latest iTunes version. iOS drivers required by your PC to correctly recognize your iPhone come with iTunes. Getting the most recent version of iTunes will make sure that you have the latest drivers.

Connect iPhone to another USB slot on your PC. And unplug any other USB devices before attempting to back up again.

Deactivate security software. Temporarily disable your antivirus and firewall programs and try the backup once more.

Free up space on your computer. Most iOS backups require at least 1 or 2 GBs of free space on your system drive. If you can't backup due insufficient PC space, we recommend that you free up at least 5 GB from your primary computer drive.*
If the solutions above fail to help you solve the problem, it may quickly become complicated. Our experience shows that even Apple Support may not be able to help.
Use an alternative iPhone backup method. If you fall flat, try CopyTrans Shelbee to back up iPhone instead.
Back up iPhone to PC without iTunes
CopyTrans Shelbee offers an alternative way to create iOS backups without the need of iTunes. It is a hassle-free iPhone backup tool.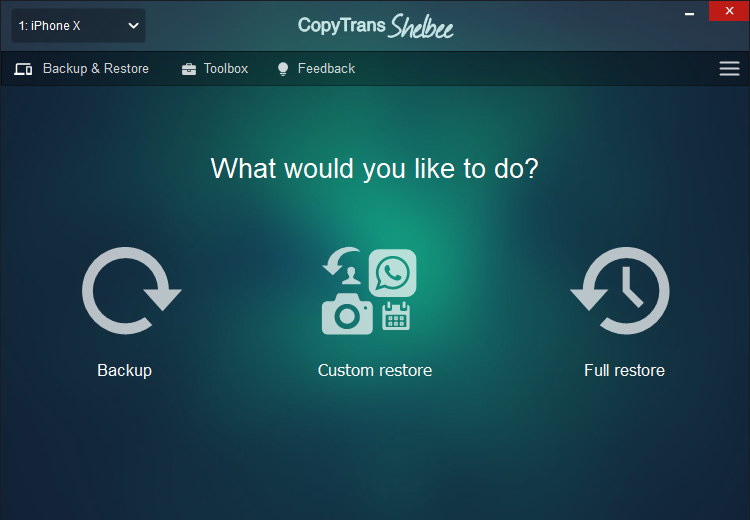 CopyTrans Shelbee is designed to back up iPhone, iPad, and iPod Touch in the same way as iTunes but with some added benefits:
A utility dedicated to the backup of iPhone, iPad and iPod Touch will never ask you whether you wish to "erase and sync", unlike iTunes.

It takes 3 clicks to back up iPhone with CopyTrans Shelbee.

Unlike iTunes, you are able to select a convenient location for iPhone backups. You can therefore keep track of where your backups are saved.

More than anything, our technical support team replies within 24-hours: 365 days a year, 7 days a week. We are ready to help you troubleshoot for free so that you can back up your iPhone.
Get CopyTrans Shelbee Now
3-step iPhone backup without iTunes
Download and install CopyTrans Shelbee on your PC
Run the program, connect iPhone to PC, click "Backup" and then "Full backup"
Select the backup destination by clicking pencil icon and initiate the backup by clicking "Start"
CopyTrans Shelbee is not a silver bullet. If you have trouble at any point in the backup process, contact the CopyTrans support team! We'll help you troubleshoot. This in turn will help us improve CopyTrans Shelbee and add new features in the future.
Resolve iOS backup errors in iTunes: YouTube tutorial